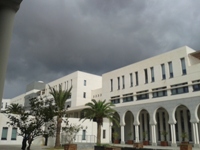 28 - 30 October 2013, Algiers, Algeria - It is in the framework of the partnership between the Institute for Diplomacy and International Relations of the People's and Democratic Republic of Algeria and UNITAR that a workshop on the United Nations' System and Institutions was held at the of Ministry Foreign Affairs in late October 2013 in Algiers.
The main objective of the workshop organized by the Multilateral Diplomacy Programme of UNITAR was to familiarize participants with the structure and functioning of the United Nations to prepare for their future collaboration with its various governing bodies. In addition, the training was designed to enable new diplomats to strengthen the projection and reputation of the People's and Democratic Republic of Algeria on the international scene.
Twenty-four young diplomats gathered in the premises of the Ministry of Foreign Affairs in Algiers to attend a three-day workshop facilitated by high-level speakers, both experts of the UN diplomatic realm and highly experienced trainers. The first day of training was moderated by Ambassador Idriss Jazaïry, former Permanent Representative of the People's and Democratic Republic of Algeria to the United Nations in Geneva. The second day was facilitated by Dr. Fatsah Ouguergouz, judge and former Vice President of the African Court of Human and People Rights. Finally, the last session of this three-day workshop was covered by Mr. Mohand Cherifi, former Minister of Trade of the People's and Democratic Republic of Algeria and Senior Advisor to the Directorate General of UNITAR.
Beyond a general introduction to the United Nations, the workshop presented the opportunity to discuss a wide range of topics at the heart of the UN's daily activities in the world. The participants got acquainted with the composition of UN organs and subsidiary bodies, the global issue of international peace and security, the fight against poverty, the promotion of humanitarian action faced by our contemporary world and the future and the role of the South on the international scene. The presentation by Dr. Fatsah Ouguergouz enlightened participants regarding the roles and powers of the International Court of Justice and the importance of human rights in the UN system. Finally, Mr. Mohand Cherifi outlined the importance on the United Nations right to development.