21 April - 21 June 2013, Stavanger, Norway - Over the course of two months, Nine Community Nurses from Egiland, a Total E&P oil producing community in Rivers State, Nigeria, attended a training of trainers (TOT) course for health workers jointly organized by UNITAR Nigeria Office and the Sustainable Development Division of Total E&P, Nig Ltd (Tepng).

The interactive training course was intended to equip health personnel working in health related areas in Total E&P host communities with knowledge, experience and skillful expertise required in handling neonatal and postnatal cases towards drastically reducing Maternal & Infant Mortality and Morbidity rates in Egiland. Focusing specifically on three major areas including General Health Care, Maternal and Child Care, and Empowerment, the course also included other cross cutting modules such as Information Communication Technology (ICT), Mathematics for Health workers, and English for Health Professionals which are all relevant to modern day health delivery and Clinic/Hospital Management. This initiative contributes to the achievement of the MDG.

The course, which took place at Møllehagen School Centre, Stavanger, Norway, was coordinated by Rogaland Training and Education Centre (RKK), a key UNITAR Technical partner for training and capacity development, with experienced practitioners and lecturers as facilitators drawn from Møllehagen School Centre, the University Teaching Hospital Stavanger, University of Stavanger and the Primary Health Care Service.

Using participatory approaches which combined presentations, case studies, exchange of ideas between Nigeria and Norway Healthcare systems and practical exposures to hospital scenarios, the course modules were exhaustively discussed with active participation by facilitators and the participants of the training.

Specific highlights of the course included training and demonstration lessons in specialized areas such as critical Post-Natal and Neo- Natal situations like "Helping Babies Breathe". Participants got involved in role play, simulations and in various presentations included in the course which resulted in demonstrating to a class of specialized Health workers. This methodology facilitated practical and hands on experience. The Mathematics for Health Workers course highlighted the use of Excel in day to day clinic activities for effective record keeping and paperless records in the Nigerian Primary healthcare system. While the ICT for Health Workers module emphasized the significance of ICT in Nursing. Other interesting aspects of the course included visits to places such as Stokka Nursing Home for the Elderly; Primary Healthcare Facility, where Dr Ivar Halvorsen discussed the Primary Healthcare system; Children and Neo-Natal Units of the University Hospital, Norway; the Norwegian Petroleum Museum; and Finnøy Island, among others.

During the course, Dr Ole Mathias (an adviser to the Norwegian President on Health Matters) chaired an interactive session involving exchange of ideas and the workings of the healthcare Systems in Nigeria and Norway. Presentations were made by the Nigerian group and Dr. Ole also made a presentation on the Norwegian Healthcare system.
Participants expressed satisfaction to the organizers for the quality of the training and the methods deployed in administering the course, which they all agreed has equipped them as trainers and skilled personnel in the significant health care delivery services required in Egiland.
Participants advocated the need to organize, mobilize, retain and sustain these trained persons to form a formidable team of health services providers within Total E&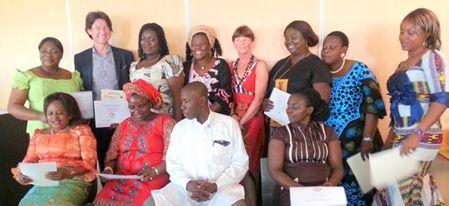 P and its operational area to effectively utilize the knowledge and competence acquired, adding that if the knowledge and experience gathered by the team during the TOT program is effectively deployed in Egiland, Maternal and Infant mortality and morbidity rate would reduce drastically as the skillful expertise will be utilized in handling neonatal and postnatal cases to ensure and assure sustainable health care delivery services and a healthy population in Egiland. This would also contribute towards achieving the Millennium Development Goals in Nigeria. At the end of the training course, two diploma certificates were awarded to each participant.
---
Image: Course participants