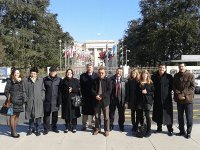 March 2013, Geneva, Switzerland - In partnership with the Institute of Diplomacy and International Relations (IDRI) of the Ministry of Foreign Affairs of Algeria, UNITAR delivered a successful "Training of Trainers" workshop for Algerian diplomats and lecturers.

The training workshop took place over a period of five days and was divided into two parts. The first part gave the nine participants the opportunity to strengthen their pedagogical skills and to familiarize themselves with adult teaching methods through experience sharing with the trainer. With a focus on practical and interactive exercises, the training workshop allowed participants to identify their strengths as speakers and enabled them to become aware of and overcome their weaknesses. The trainer, Jérôme L'Host, gave each participant personalized advice on how to work on their body language, posture and voice when they introduced themselves to the group. Participants then had the opportunity to put their speaking skills to practice addressing different kinds of audiences.

The second part of the training workshop focused on specific features of training targeting diplomats. Ambassador Jean-Marc Boulgaris, former Permanent Representative of Switzerland to the United Nations in Geneva, was the trainer for the sessions on Intercultural Communication, UN Protocol and Conference Diplomacy. These sessions enabled participants to gain a better understanding of the skills and expertise required in the field of multilateral diplomacy. During this second part of the training workshop, participants also had the opportunity to discuss the training methodologies used at IDRI and to build on their teaching skills by learning about other teaching methods.

Thanks to the interactive design of the workshop and the opportunity to share experiences, the participants' feedback was very positive. This workshop is a continuation of the very fruitful partnership between UNITAR and IDRI. It is also the first of a number of activities planned for the year 2013. In April, another "Training of Trainers" workshop is going to take place in Algiers, followed by workshops on the UN System, UN Protocol, and Mediation.