30 April 2013, The Hague, Netherlands. In partnership with the Institute of Diplomacy and International Relations (IDRI) of the Ministry of Foreign Affairs of Algeria, UNITAR delivered a successful training workshop on international courts and tribunals for Algerian diplomats.
This training activity provided participants with an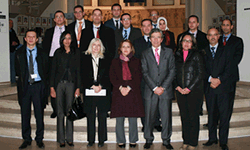 insight into the functioning and jurisprudence of major international courts and tribunals; subjects on the course curriculum covered training sessions on the international justice system, international criminal law and the law of the sea as well as an in-depth study of the work of the following institutions: International Court of Justice, International Criminal Court, Permanent Court of Arbitration, International Criminal Tribunal for the Former Yugoslavia, International Tribunal for the Law of the Sea, Special Tribunal for Lebanon.
Judges and high-level experts from the respective institutions as well as renowned academics shared their experience with the 16 trainees during this one-week international law training which took place on the premises of the Peace Palace as well as at the headquarters of the relevant institutions in The Hague.
This workshop was organized in the framework of very fruitful partnership between UNITAR and the Institute of Diplomacy and International Relations (IDRI). More diplomacy and international law training activities are foreseen to take place in the coming months