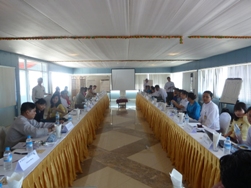 December 2012, Nay Pyi Taw, Republic of the Union of Myanmar – With over 1 000 meetings per year, the chair of ASEAN in 2014 is a critical challenge for regional diplomacy in Myanmar. The support of UNITAR and its expertise in the field of diplomatic training has allowed for junior diplomats and officials from different ministries to have a better overview of future challenges for the year 2014.

The workshop, jointly organized by UNITAR's International Law Programme and Multilateral Diplomacy Programme as well as the training department of Myanmar's Ministry of Foreign Affairs, took place over a period of one week in the Myanmar capital Nay Pyi Taw, thanks to the support of Total E&P Myanmar. The diverse profiles of the 34 participants – of which 17 were male and 17 female – demonstrated the importance of this training for the Government. Three high-level resource persons provided training sessions in the areas of conference diplomacy, ASEAN diplomacy and diplomatic protocol; allowing officials to attain a comprehensive overview of the tasks they may encounter during ASEAN meetings which will be held in 2014.
Junior officials – half of which were from the Ministry of Foreign Affairs – familiarized themselves with the rules of conference diplomacy and were able to benefit from the experience of Miguel Bautista, a Filipino diplomat seconded to the United Nations Conference on Trade and Development (UNCTAD). His knowledge and experience on multilateral conferences were complemented by the expertise of Pratap Parameswaran, an accredited diplomat to the political division of the ASEAN Secretariat. The decision-making process, issues of ASEAN regional diplomacy as well as the different levels of meetings held during the presidency enabled participants to better understand the impact the ASEAN chairmanship will have on their daily tasks.

Practical simulation exercises as well as concrete logistic discussions required to organize the summit have promoted interactions and exchanges between representatives of different ministries. Protocol matters which were raised by Alice Hecht, former head of the UN Protocol Department, were of particular interest to junior officials. However, as the trainer frequently pointed out, the purpose of the workshop was not to provide participants with ready-made solutions, but rather to familiarize them with situations in which they can improvise.

During the 2014 ASEAN chairmanship, junior officials will primarily work with the support of senior diplomats who will be directly involved in negotiations. A second training session organized by UNITAR will be held in February 2013 in order to prepare senior diplomats for the chairmanship of meetings, the negotiation and adoption of texts and the management of national delegations.