UNITAR Hosts Road Safety Conference in Support of Safer Roads for Gurugram
27 - 29 August 2018, Gurugram, India - The United Nations Institute for Training and Research (UNITAR) in collaboration with the Ministry of Road Transport and Highways, the apex body for Road Safety in the State of Haryana – Transport Department and the Safer Roads for Gurugram Initiative hosted the "Road Safety High Level Conference" in Gurugram, India. The Conference was officially inaugurated by Mr. Dhanpat Singh, Additional Chief Secretary of the State of Haryana Transport Department and Mr. Inderjeet Singh, Joint Secretary – Road Safety of the Government of Haryana Transport Department.
At the Conference, senior government authorities, private sector executives, academics, international organization representatives, road safety experts and civil society leaders, gathered to exchange knowledge and best practices to improve road safety, leading to collaboration and implementation of targeted interventions in the city of Gurugram. The event also sought to empower government officials with the technical know-how and management skills to implement interventions that improve road safety, as well as mobilize stakeholders from different sectors to support road safety interventions in the City of Gurugram.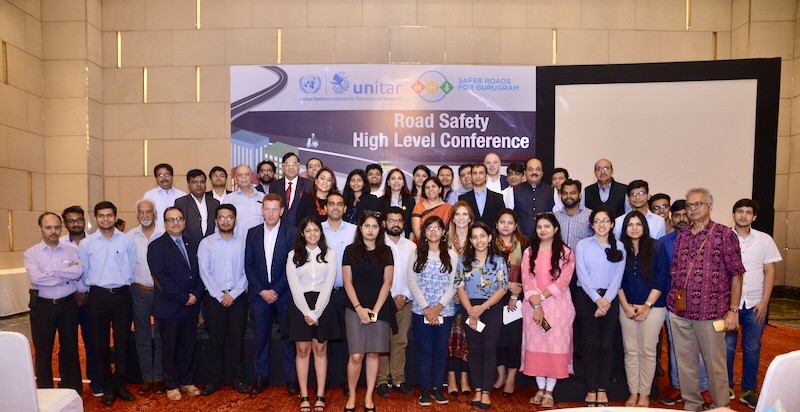 The Conference included roundtable discussion aimed at facilitating the exchange of best practices in road safety policies that address vulnerable road users. Local and international panelists included Ms. Catalina Garcia, Director, Global Corporate Affairs /Social Marketing & Social Norms, Healthier World, AB InBev, Mr. Viren Dhulla, Vice President & Head - Corporate Health Safety & Wellbeing at Vodafone India, Mrs. Rinika Grover, Head – CSR of Apollo Tyres, Ms. Rhea Cecile Goveas of AIP Foundation in Vietnam, Mrs. Rubina Bembi, Assistant Vice President CSR Solutions of IL&FS Education, Mr. Rajni Gandhi, Founder of TRAX Road Safety NGO, Dr. Sushma Sagar, Associate Professor & Head Surgeon, Trauma Care of All India Institutes of Medical Sciences (AIIMS), Ms. Neha Khullar , Director of Projects at Muskaan Foundation in Jaipur, Mr. Dipak K. Dash, Senior Journalist at Times of India, Mr. Armstrong Pame from the Municipality of Manipur. They shared recommendations, best practices and presented opportunities collaboration.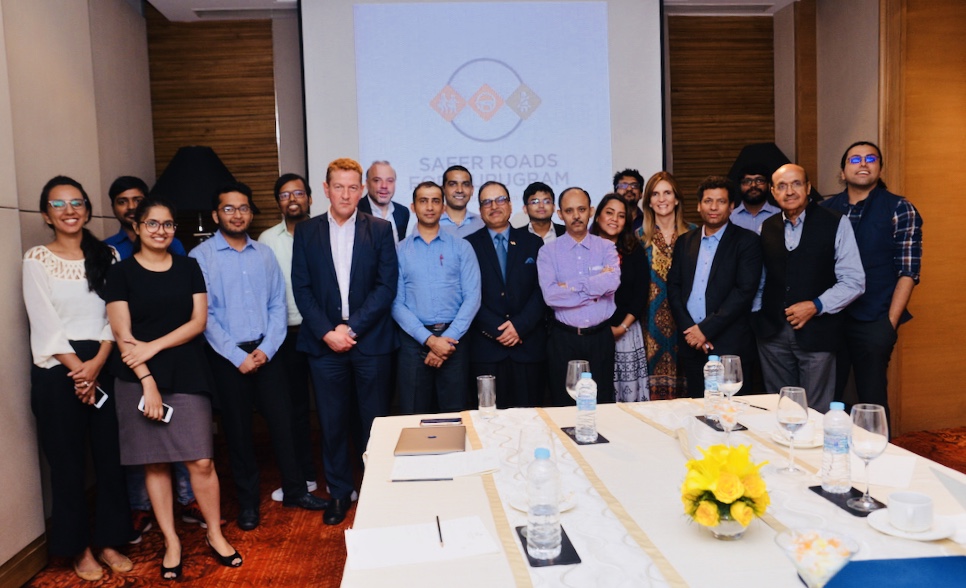 Deliverables presented during the conference included:
Road Safety Learning and Partnership Platform, which a global collaborative initiative that aims to provide countries and key stakeholders with road safety learning.
Road Safety Data Dashboard for Gurugram, a tool that serves to monitor data related to road traffic incidents, empowering government officials to target informed road safety actions in the area. This tool has been specially designed for the City of Gurugram and was donated by AB InBev to the State Government of Haryana.
Multi-stakeholder Action Plan, which includes the results of an analysis conducted in Gurugram and remedial measure to improve road safety. The plan identified 10 black-spots and provided a set of cost-effective methods to correct them.
Finally, the Conference concluded with the meeting of the Safer Roads for Gurugram Initiative Working Group, where participants reviewed the initiative's progress, defined next steps and discussed impact-oriented joint road safety solutions for Gurugram. The Working Group is comprised of representatives from UNITAR, AB InBev, DLF Foundation, Apollo Tyres, Pepsico, Haryana Vision Zero, Indian Road Safety Campaign (IRSC), CSIR-Central Road Research Institute (CSIR-CCIR), Safe Road Foundation, All India Institute of Medical Sciences (AIIMS), and the All India Motor Transport Congress (AIMTC).
---
Photo 1: Mr. Dhanpat Singh, Additional Chief Secretary of the State of Haryana Transport Department inaugurating the Conference
Photo 2: Participants of the Road Safety Conference in Gurugram
Photo 3: Meeting of the Safer Roads for Gurugram Initiative Working Group