22 - 23 February 2014, Oran, Algeria - Speaking in front of more than 1000 participants and some 30 Ministers from African countries, UNITAR Executive Director Ms. Sally Fegan-Wyles emphasized opportunities for collaborative learning to advance a green economy at the Opening of the High Level African Conference on Green Economy.
"Each government sector is concerned with, and can contribute to a green transformation", Fegan-Wyles pointed out. "Multi-sectoral and multi-stakeholder collaborative learning processes can help to share knowledge and identify synergies, and international agencies will be pleased to partner with African countries to address their priority learning needs on the green economy".
Distinguished speakers in the Opening Session included also H.E. Mr.Abdelmalek Sellal, Prime Minister, Government of Algeria; H.E. Ms. Fatima Haram Acyl, Commissioner for Trade of the African Union; H.E. Ms. Dalila Bourjemaa, Minister of Territorial Planning and the Environment; Mr. Achim Steiner, Executive Director of UNEP; and Mr. Arnold Schwarzenegger, President of Regions in Action on Climate Change (R 20).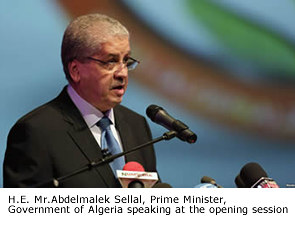 The Oran Conference was held as the international community is crafting a new post-2015 development agenda that succeeds the eight anti-poverty targets known as the Millennium Development Goals (MDGs) and seeks to take into account the outcomes of the 2012 Conference on Sustainable Development in Rio. The meeting also comes ahead of the first global conference on Partnerships for Action on Green Economy (PAGE) to be held in the United Arab Emirates (UAE) in early March to support and promote the adoption of the green economy at the international level. (PAGE) was launched in 2013 by four founding international partners, UNEP, ILO, UNIDO and UNITAR.
Referring to PAGE, Ms. Fegan-Wyles announced that the Programme will reach out to seven developing countries in 2014 to support national level action on the green economy, amongst which at least 2-3 will be from Africa. While this is a promising start" we know that the green economy is creating unprecedented challenges and opportunities for learning in many other countries" she said. "We need to move much faster, if resources can be identified to help address immediate learning needs, through country-driven learning projects" Fegan-Wyles concluded.
The topic of green economy learning and training received further attention during the Conference round table on means of implementation. During the round table, UNITAR shared its commitment to work with African countries in developing green economy learning strategies and addressing immediate learning needs by providing scholarships to African participants for the PAGE introductory e-learning course on the Green Economy scheduled to take place in April – June 2014.
For further information:
Achim Halpaap,Senior Manager, Environment and Green Development at envgov@unitar.org