UNITAR Executive Diploma in Diplomatic Practice – 4th Edition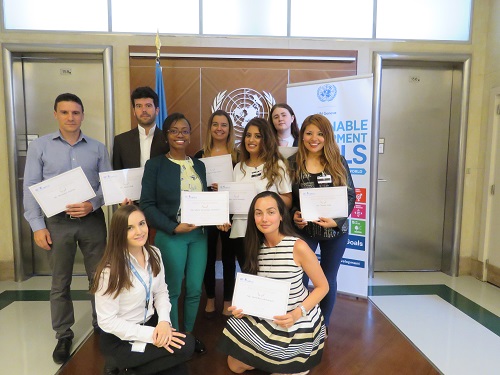 11 June 2018, Geneva, Switzerland – The Core Diplomatic Training workshop on Leadership Skills, which took place on 7 and 8 June at the Palais des Nations, the United Nations Headquarters in Europe, was the final course of the third edition of UNITAR's Executive Diploma in Diplomatic Practice in Geneva. The programme started in September 2017 and will officially end in August 2018, as participants work on the submission of a final Research Paper in order to obtain the Diploma.
Similarly to previous year, the Executive Diploma remains a highly successful programme which attracts diplomats based in Geneva and other worldwide locations, as well as practitioners working in international organizations, non-governmental agencies and other stakeholders in the international arena. Participants taking part in the third edition undertook a comprehensive training and development of their diplomatic skills, gaining improved command of negotiation skills and techniques, public speaking and leadership skills, along with more technical abilities such as the perfection of their writing skills in multilateral diplomacy or the drafting of UN Resolutions. In addition, they were also briefed on topics related to multilateral diplomacy and to the goals outlined in the Agenda 2030 by attending courses on Climate Change Diplomacy, Economic Diplomacy and Human Rights protection and Promotion among others.
The 2017-2018 edition has registered an average satisfaction rate of 91% and an average 85% of participants feeling that they had met the programme's objectives. In light of this successful outcome, UNITAR is pleased to announce that the fourth edition of the Executive Diploma will start again in September 2018, and will include some innovative elements aimed at complementing the training workshops. In fact, whereas the workshops of the upcoming edition will be focused on the improvement of diplomatic skills, a series of seminars will concentrate on thematic elements developed around current and pressing international matters. Moreover, participants will receive individual coaching and assessment prior to as well as during and after the completion of the Executive Diploma.
---
Registration is now open for the enrollment in the fourth edition. To apply, please send an email to: diplomacy@unitar.org