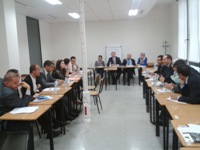 May 2014, Algiers, People's and Democratic Republic of Algeria. It is in partnership with the Institute for Diplomacy and International Relations of the Algerian Ministry of Foreign that UNITAR organized a three-day training workshop on political mediation in Algiers.
As the international scene is teeming with conflicts that are increasingly internal to states, political mediation is felt as the vector of choice to facilitate negotiations with a view to rebuilding peace. Acting effectively in local, regional and international negotiations in times of crisis requires that mediators have a thorough knowledge of the parameters and frictions that draw the context of the crisis. Based on the analysis of case studies, this workshop provided participants with the resources to reflect on the dilemmas, challenges and limits of political mediation while focusing on the application of the theoretical and practical tools acquired.

The first part of this workshop, moderated by Professor Alain Sigg, analyzed several examples of political mediation cases to serve the appreciation of the trends known by the general public and its mechanisms. Focused primarily on the cases of South Africa, Bosnia - Herzegovina and the Democratic Republic of Congo, this first part depicted the ethical dilemmas of political mediation as well as its challenges and limitations. Discussions based on the the views and experiences of participants contributed to approach a holistic approach to mediation. The second part of this workshop, led by Ms. Sandra Coulibaly Leroy, focused on the application of these previously acquired tools. During a simulation exercise, participants were asked to establish an analytical grid of a fictitious conflict; to draw from this analysis a negotiation strategy taking into account the interests of each party and the best alternative to a negotiated agreement as well as to simulate the achievement of this agreement through a role-play between negotiators and mediators.

Participants welcomed the "high level of communication in public and openness in discussions" during this highly interactive workshop. They furthermore exhibited confidence in their ability to use the lessons learned during this seminar in the context of their mandate; an objective that lies at the heart of UNITAR and IDRI partnership.