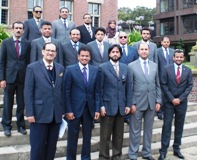 September 2013, The Hague, the Netherlands - To strengthen Saudi Arabian diplomats' understanding of different international judicial institutions and international law, UNITAR and the Ministry of Foreign Affairs of the Kingdom of Saudi Arabia jointly organized a successful study visit to The Hague, the international city of peace and justice.

At the beginning of the week participants were provided with a general overview of Public International Law and International Criminal Law by the law expert Professor Emeritus Eric David. This session took place in the Peace Palace, symbol of peace and justice and home to the International Court of Justice (ICJ) and the Permanent Court of Arbitration (PCA). As the study visit coincided with the centennial anniversary of the Peace Palace, participants could attend a number of special events and exhibitions.

After the introductory session participants were looking forward to adding to the theoretical knowledge gained by visiting the different international courts, tribunals and EU agencies. During the five-day course the group visited The Iran-United States Claims Tribunal, The International Court of Justice (ICJ), The International Criminal Tribunal for the former Yugoslavia (ICTY), The Special Tribunal for Lebanon (STL), Eurojust, The Permanent Court of Arbitration (PCA), The International Criminal Court (ICC) and Europol. Due to the current events in relation with Syria and the connection to international justice, UNITAR also organized a visit to the Organisation for the Prohibition of Chemical Weapons (OPCW) which was of great interest for the participants.

Among the high-level speakers that addressed the participants were Mr. Serge Brammertz, Chief Prosecutor of the ICTY, Judge Afif Chamseddine, Appeals Chamber Judge at the STL as well as Michèle Coninsx, President of Eurojust, and Vice-President of Eurojust Raivo Sepp.

Apart from the very interesting and informative briefings by representatives of the different institutions, participants had the opportunity to attend hearings to see how international justice unfolds. At the end of the week the diplomats emphasized that the combination of theory and practice made this course a very enriching experience and the course evaluation showed that 100% of the participants intended to use the information acquired.