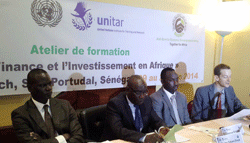 27 June 2014, Geneva, Switzerland – The Arab Bank for Economic Development in Africa (BADEA) and the United Nations Institute for Training and Research (UNITAR) conducted their second session under the regional Finance and Investment Training Programme from 9 to 20 June 2014 in Saly Portudal (Senegal) in collaboration with the African Centre for Trade and Regional Integration (ENDA CACID). The broad objective of the Training Programme is to provide support for the further integration of non-Arab African countries into the global economy. The program places a particular emphasis on the fostering of cooperation between African countries and Arab States for increased knowledge creation and exchange.

The Minister of Investment Promotion and Partnerships of Senegal Mr. Diène Farba SARR formally opened this two-week workshop which was directed by senior investment and trade expert Dr. El Hadji Abdourahmane DIOUF.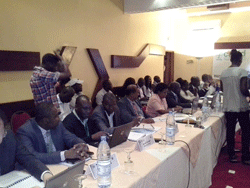 During the first week the participants gained an overview of the key substantive issues in relation with investment in Africa. They also discussed the importance of a country's business environment, ranking systems such as the World Bank's Doing Business Report, and made individual presentations about the main challenges and opportunities their respective countries are facing in this context.

The second week of the workshop was devoted to in-depth discussion of selected systemic issues, including the linkages between trade and investment, public-private partnerships and investment, and investment promotion strategies. At the end of the workshop, participants presented the results of the group exercises which focused on outlining an ideal institutional framework for investment promotion in Africa.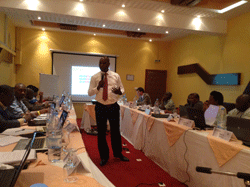 The highlights of the workshop included the lively, well-informed and instructive discussions, facilitated by the Course Director Dr. DIOUF. These discussions allowed the fruitful exchange of ideas, experiences and opinions between participants and the opportunity to engage with the Course Director and the invited high-level speakers. Among the speakers were Dr. Cheikh Tidiane DIEYE (Executive Director of ENDA CACID), Prof. Malick SANE (Faculty of Economics and Management, Cheikh Anta Diop University Dakar), Mr. Mor Talla KANE (Executive Director, National Confederation of Employers of Senegal), Dr. Ibrahima WADE (Permanent Secretary, Accelerated Growth Strategy of Senegal), Mr. Abdoulaye LY (Director of Investment Promotion, Investment Promotion and Major Works Agency APIX), Prof. Abdoulaye SAKHO (Faculty of Law and Political Science, Cheikh Anta Diop University Dakar) and Mr. Mamadou Lamine BA (Director of Business Environment, Investment Promotion and Major Works Agency APIX).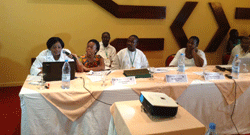 The workshop was a success, with very favourable reviews in the reaction survey conducted at the end of the course. Of the surveyed participants, 88% indicated that they are fully satisfied with the workshop, and a vast majority indicated that they would recommend this workshop to a colleague with similar job responsibilities. Participants' comments about the course were generally positive, testifying to the utility of the information and skills learned and the expertise and helpful facilitation of Dr. DIOUF and the invited speakers. Below are two comments received from participants through the end-of-course survey.

"The content was highly relevant for my work. I will use the knowledge I acquired in this workshop in my work." (Mr. Emmanuel Muebela, Head of International Cooperation Division, Ministry of Finance, Democratic Republic of the Congo)

"I would like to thank UNITAR and BADEA because I learned a lot from this training." (Ms. Anne Tihi, Auditor, Ministry of Trade, Côte d'Ivoire)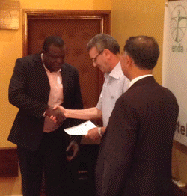 Twenty one (21) senior and middle level finance sector officials from 16 countries successfully completed this two-week training workshop which was sponsored by BADEA, and received a Certificate of Participation from BADEA and UNITAR at the end of the course.

The next session under the BADEA-UNITAR Training Programme will be held in Maputo (Mozambique) from 15 to 26 September 2014. BADEA will finance the participation of 10 officials from lusophone African countries, and will invite nominations from July 2014. A limited number of seats will be available for self-financed participants from government, private sector and civil society.

For more information about the next session and/or to apply as a self-financed participant please see https://www.unitar.org/event/badea-unitar-training-workshop-finance-and-investment-africa-lusophone-countries-working-language-po (in Portuguese and in English).

For more information about UNITAR's Public Finance and Trade Programme please visit http://www.unitar.org/pft/.

For more information about the Arab Bank for Economic Development in Africa (BADEA) please visit http://www.badea.org/.

For more information about the African Centre for Trade and Regional Integration (ENDA CACID) please visit http://www.endacacid.org/french/index.php (in French).