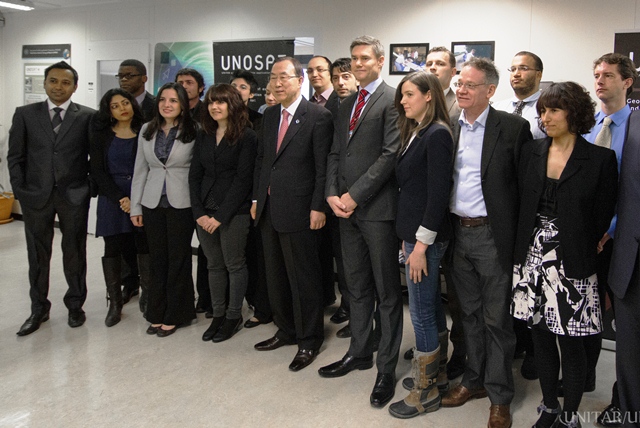 1 March 2013, Geneva, Switzerland - The visit was a first and a moment to treasure for the UNOSAT experts and staff who had the chance to spend time with the UN Secretary-General. Mr. Ban Ki-moon, who had been visiting CERN on the same day, along with CERN's Director-General Professor Heuer, said he was pleased to visit UNOSAT and to personally meet the UNOSAT team, which is the only group of United Nations professionals housed at the CERN laboratory in Geneva. Mr. Ban Ki-moon recalled how in various instances and crises the mapping and analysis work done by UNOSAT was useful to the organization and to himself.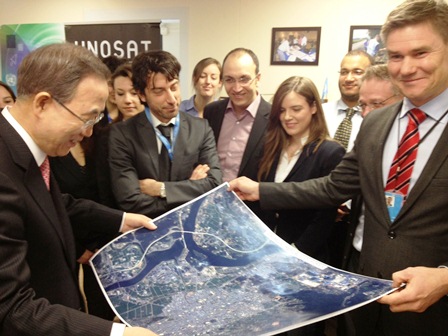 Mr. Ban Ki-moon and Professor Heuer were welcomed by Francesco Pisano, Director of Research at UNITAR, and Einar Bjorgo, newly designated Manager of the UNOSAT Programme. The moment was cordial and had special value for the people of UNOSAT, whose work often makes an important difference in delicate situations. Wendi Pedersen, who works at UNOSAT in the area of rapid mapping, said, "It was a pleasure having him here among us, meeting the people behind the maps and data that have been of use for so many in the UN."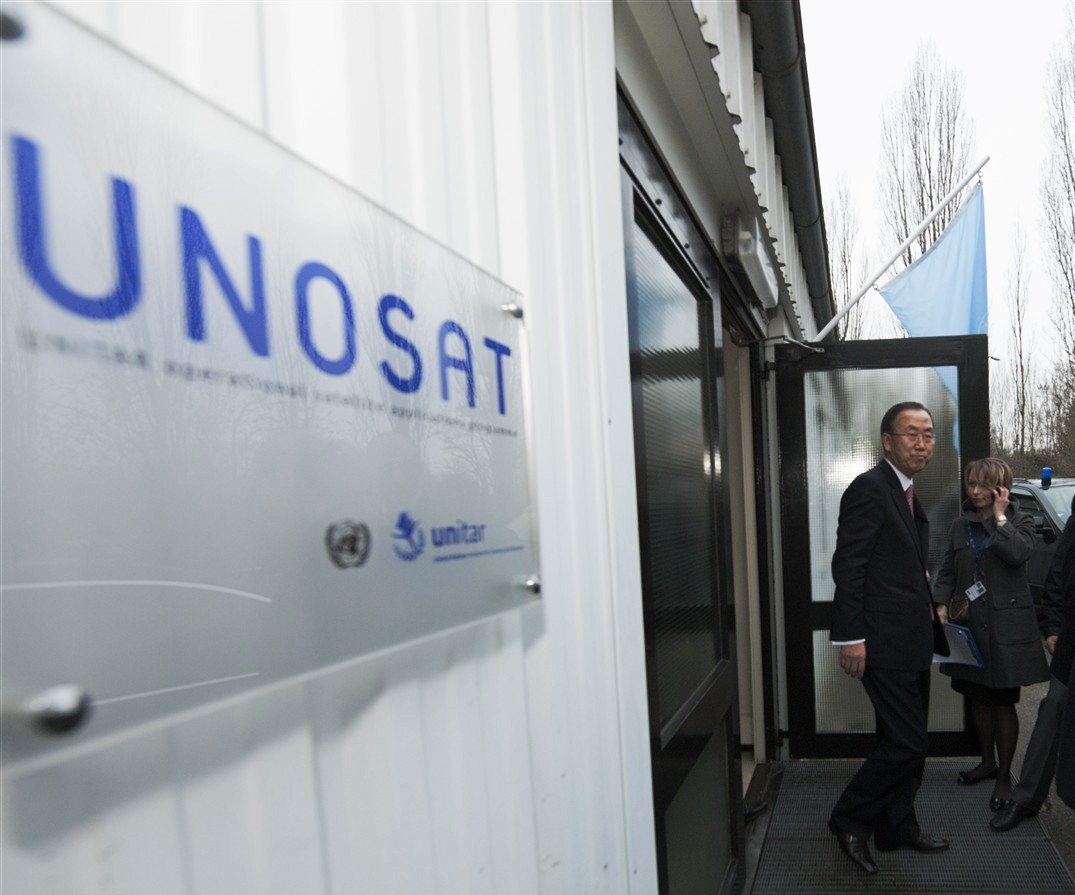 "It is a rewarding experience for professionals who are in the habit of being modest regarding their successes," said Pisano. "Shaking hands and exchanging words with the Head of the Organization is a source of pride." Bjorgo agreed, "It makes us all very proud to welcome the Secretary-General to our office. It is an important recognition for the efforts we deploy here each day."
Mr. Ban Ki-moon took the opportunity to thank CERN for the invaluable support provided to UNOSAT. Thanks to this partnership initiated over ten years ago, UNOSAT relies on CERN's state of the art connectivity and IT, and enjoys virtually unlimited computing and storage capacity. The Secretary-General noted that this new form of collaboration between two institutions so diverse is a positive example.
---
Photos by UNITAR/UNOSAT/Cedric Serbat and CERN