Training Young Leaders: Immersion Programme for Tongji University Students
29 August – 4 September 2018, Geneva, Switzerland – UNITAR hosted a group of students from Tongji University in Shanghai for a five-day immersion programme at the United Nations. These students came from diverse academic backgrounds and had a common interest in environmental issues.
The immersion programme encompassed a wide range of activities. Over the five days, students visited and toured the Palais des Nations and various other UN Specialized Agencies, learning about the history of the UN, the way it facilitates multilateral diplomacy, and the Sustainable Development Goals (SDGs). They were also given the opportunity to attend conferences that took place during the week, such as one on the Durban Declaration and another on the Committee on Environmental Policy for the United Nations Economic Commission for Europe (UNECE). The students also attended various lectures given by experts on topics such as multilateral conferences and diplomacy, meteorology, and sustainable economic development. Students also visited the museum of the International Committee of the Red Cross (ICRC), an important addition to their visit in which they learned about the ICRC's role in promoting international humanitarian law.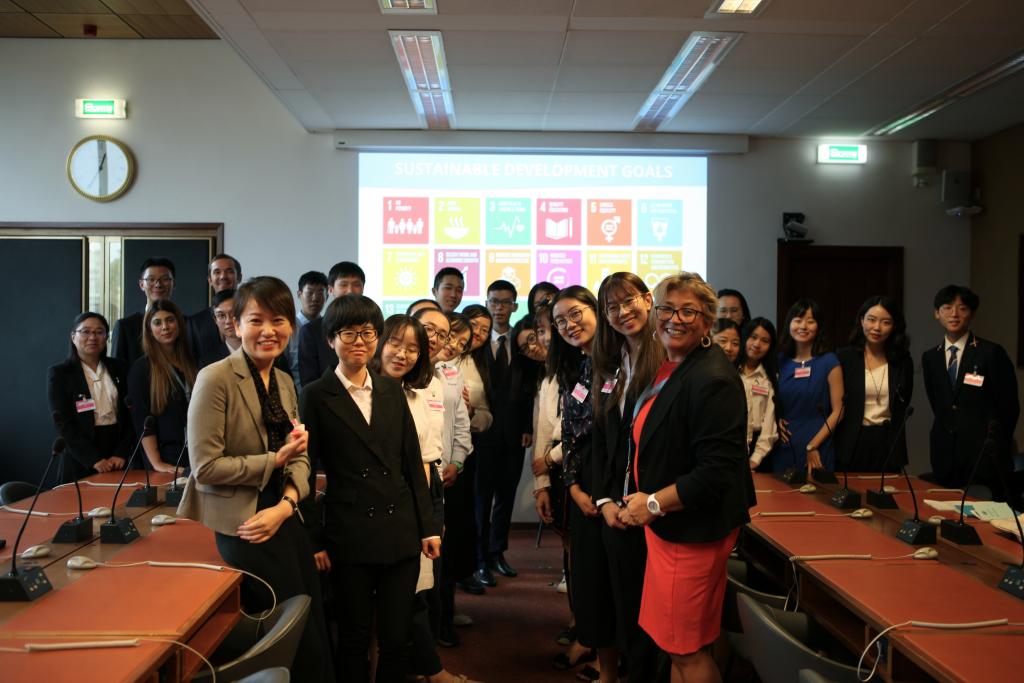 In addition to expert briefings, students attended a one-day Negotiations Skills workshop with Mr. Jerome L'Host, an expert in the field of negotiation and a long-time partner of UNITAR. Through a series of four highly interactive and participatory activities, they learned the value of collaboration in order to meet mutually-beneficial ends.
At the end of the field trip, students were given the opportunity to reflect on their week and the perspectives and insights they gained throughout the week of activities.
UNITAR is looking forward to receiving another group of students from Tongji University in February 2019 and is happy to work towards an institutionalization of the project into the university's curriculum.
---
Image 1: Tongji University students on a tour of the Palais des Nations with Mr. Julian Caletti, former tour guide for the United Nations Office at Geneva (UNOG).
Image 2: Students with Ms. Catherine Fegli from Information Service at UNOG.