Training Course on the United Nations General Assembly for the Kingdom of Bahrain's Ministry of Foreign Affairs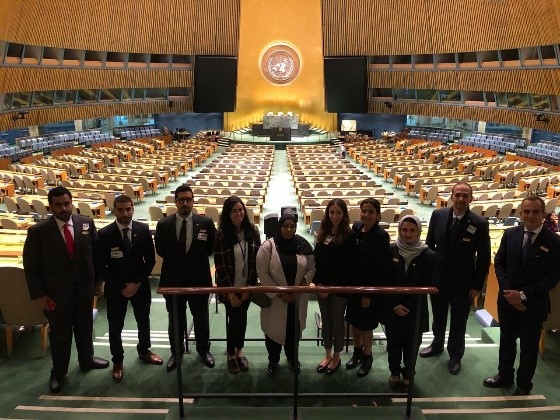 10 - 13 September 2018, New York, USA - The United Nations Institute for Training and Research delivered a four-day training course on the United Nations and its General Assembly for a group of diplomats working for the Ministry of Foreign Affairs of the Kingdom of Bahrain who will attend the 73rd session of the UN General Assembly.
The training was delivered jointly by His Excellency Amr Aljowaily, Egypt's Ambassador to Serbia, with extensive experience in the work and insight of the United Nations General Assembly, and Mr. Rabih El-Haddad, Director of the Division for Multilateral Diplomacy of UNITAR. Meetings with UN secretariat colleagues from the protocol and liaison service and the UN library were undertaken to provide participants with a practical and applicable knowledge on the UNGA. These meetings enabled them to get an overview of the services related to the functioning of the UNGA.
Participants spent the first two days strengthening their knowledge on the UN General Assembly and the UN Secretariat. The third day of the training course gave them the opportunity to reinforce their negotiation skills and drafting skills. Finally, on their fourth day, participants were challenged with simulation exercises on negotiating, drafting and adopting UN resolutions. Participants were overly satisfied with their experiences as 90% of them reported that the workshop was very useful and all of them reported that they will most likely use the information acquired.
Benefits from the workshop were confirmed by post-training self-evaluations. Most participants stated that they increased their knowledge of the General Assembly and that they are now more capable of critically analyse its role within the UN. Overall, thanks to the workshop, the group of diplomats is better prepared to negotiate effectively within the General Assembly and its Committees.
UNITAR looks forward to the upcoming series of workshops with the Ministry of Foreign Affairs of the Kingdom of Bahrain that will take place in the future.
---
Photo: Participants in the UNGA hall of the UN headquarters