UNITAR's activities in Resilience and Risk Reduction
The world's vulnerability to disasters is on the rise. Despite progress made globally on the development front, the impact of disasters continues to be a major obstacle to the world's welfare. To respond to the growing demand of skills and methodologies to protect lives, livelihoods and development gains from disasters, UNITAR develops research and training to support beneficiaries in UN member states in their quest for resilience and risk reduction so that national and local authorities can turn the principles endorsed at international level into usable policies and practices adapted to the needs of each vulnerable community.
The UNITAR Resilience and Risk Reduction activity area (R3) combines the knowledge and experience of several UNITAR Programmes engaged in supporting governments and local authorities in their respective substantive areas:
---
Current Activities
Sendai Framework for Disaster Risk Reduction 2015-2030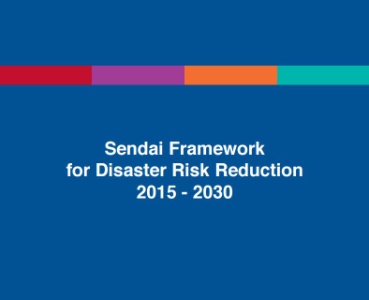 The Sendai Framework for Disaster Risk Reduction 2015-2030 was adopted by 187 UN Member States on 18 March in Sendai, Japan. The Framework is the result of a long process of consultation with a wide variety of stakeholders, and builds on 10 years of work in implementing its predecessor, the Hyogo Framework for Action (HFA).
The Framework carries many important innovations and it recognizes the role of training in developing capacities to better analyze, prevent and reduce disaster risks. It calls on the UN system to ensure the provision of education and training to support the implementation of the framework and enhance the understanding of risk and its components. UNITAR is partnering with specialized UN agencies and other organizations to offer training packages in support of countries and national and local actors who are in charge of implementing the newly adopted Framework.
Do you want to know more about the Sendai Framework for Disaster Risk Reduction 2015-2030? Read its full text: http://www.unisdr.org/we/coordinate/sendai-framework
---
Training support for the Global Framework for Climate Services
UNITAR has teamed up with the World Meteorological Organization to support the Global Framework for Climate Services (GFCS) with training and awareness raising tools. The importance of training in enabling countries to benefit from integrated climate services has been recognized by many delegations at the 4th World Meteorological Congress held in Geneva in May 2015.
A first concrete output of the partnership is the on-line tutorial on GFCS, which illustrates the rationale and benefits of climate services: the e-tutorial is available for free to all audiences willing to learn more about the Framework and the benefits of climate services in 5 easy modules combining videos, reference materials and interactive sessions. The e-Tutorial is already available in English and we are seeking support to translate the tool in other languages.
To read more about UNITAR's work with GFCS, and to access the tutorial, please visit our dedicated page on GFCS.
---
Participation to the 5th IRDC Davos
The 5th International Disaster and Risk Conference (Davos, 24-28 August 2014), organised by the Global Risk Forum is a global venue for discussing the implementation of DRR. UNITAR is contributing its capacity development experience with two sessions on governance and satellite technology applications.
What is the Conference about?
IDRC Davos 2014 attempts to find solutions to today's challenges by managing risks, reducing disasters and adapting to climate change. Focussing on a multi-sectors, multi-stakeholders and multi-disciplines approach IDRC helps to build stronger ties with adequate public-private partnership models among risk management communities and sectors, enabling a move towards a truly integrative way of thinking about disasters and risks. The outcomes aim to influence the post 2015 agenda such as the Post-2015 Framework for Disaster Risk Reduction (HFA2), the Millennium Development Goals (MDGs) or the replacement of the UNFCCC Kyoto Protocol (post Kyoto).
Read more about the conference and find out how to participate here! http://idrc.info/home/
---
Training at the Local Level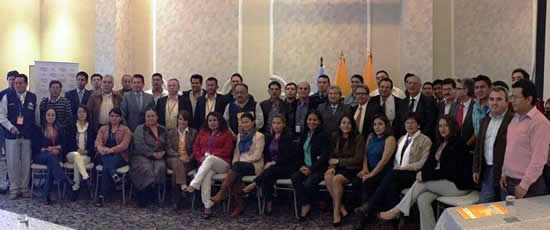 UNITAR's Decentralized Cooperation Programme is strengthening the capacities of local authorities in Latin America and around the world to reduce disaster risks and enhance local resilience. The DRR training workshops provide knowledge to increase cities and local governments' understanding of DRR concepts and approaches; they also facilitate exchange of leading practices and experiences to better manage disasters, and promote collaboration among different stakeholders to develop effective disaster response and preparedness strategies.
Read more about our DRR activities at local level at this link: http://www.unitar.org/thematic-areas/improve-resilience-and-humanitarian-assistance/resilience-and-disaster-risk-reduction-drr-initiative
The latest DRR workshop was held in November 2014 in Quito, Ecuador, and saw the participation of 183 prefects and local government officials, as well as representatives of UNDP Ecuador and the Development Bank for Latin America (CAF). In the framework of this workshop, the Prefect of the Decentralized Government of the Province of Pichincha (GADPP) Mr. Gustavo Baroja and Ambassador Luis Gallegos, Senior Fellow of UNITAR launched the new International Training Centre for Local Actors (CIFAL) Quito. More information about the workshop can be found at this link: http://www.unitar.org/enhancing-capacities-local-governments-reduce-disaster-risk-latin-america
---
Future Activities
Integrated approaches and multi-sector skills development courses
In theory there exists a continuum linking prevention, preparedness, response and recovery in a seamless cycle. However in practice there are barriers along the cycle that subdivide resources, skills and mandates. Whereas a distinction between prevention and response is a policy reality at international level, within national and subnational reality there is a need to develop integrated approaches and related skills to be able to apply DRR within development planning while understanding preparedness and build response capacity.
Policy and thematic courses in partnership with UN agencies, regional and national mechanisms, and CIFALs
Reducing risk and enhancing resilience are cross-cutting issues, relevant to a variety of stakeholders in different domains and having linkages in many of the UN agencies and programmes' mandates. Face-to-face and online courses will be organised in close partnership with actors having a stake in DRR; also, UNITAR will offer training on the integration of DRR into the various focus areas emerging from the Post-2015 Development Agenda negotiation process.
For more information on our resilience and risk reduction activities or general enquiries please email us at: research@unitar.org
---
Past Activities

Preparations for the World Conference on DRR
A free-of-charge online tutorial on the process leading to the Third World Conference on DRR will help countries design and adopt the new Framework for Disaster Risk Reduction in March 2015 in Sendai (Japan). The tutorial is structured in 4 modules, covering the following topics:
DRR Essentials;
Past agreements and the Hyogo Framework for Action;
DRR, development and climate change;
How to prepare your delegation to the World Conference.
The target audience for this tutorial are delegations to the Preparatory Committee meetings and to the World Conference. The tutorial is also open to government officers in ministries involved in the process towards the World Conference.
To register for the tutorial, follow this link: http://www.unitar.org/event/e-tutorial-post-2015-framework-disaster-risk-reduction
---
Photo credit: UN Photo/UNICEF/Marco Dormino