04 October 2013, Geneva, Switzerland - As Security Council agrees on efforts to increase access by humanitarian organisations to people in need , UNOSAT continues to monitor several refugee camps outside Syria and some key locations within Syria where IDPs are concentrated. These analyses are used by UNHCR and other humanitarian entities to plan and monitor the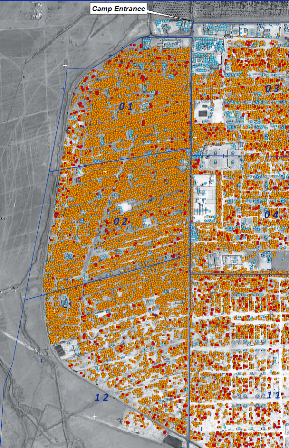 ir operations and follow the evolution of the refugee crisis.
The United Nations Security Council adopted a "presidential statement" on 2 October requesting the Syrian government to allow for more access for humanitarian workers. USG Valerie Amos, the UN Emergency Relief Coordinator, said "If the commitments and practical steps in this statement are implemented, humanitarian workers will be able reach over 2 million people who have been unreachable for many months".
The UNOSAT latest analysis of Al Zaatari refugee camp in Jordan was released just one day after the Security Council statement. UNOSAT experts determined that as of 30 September 2013 the camps comprises 25,922 shelters as well as 1,679 infrastructure and support buildings on a total surface of 531.8 hectares. The analysis also reveals that the number of shelters has decreased by about 643 (2.4%) since the previous assessment in August 2013. UNOSAT provides monthly updates of this camp at the request of UNHCR.
To view all UNOSAT maps on this emergency, click here.
Image: A detail of the latest UNOSAT maps showing the impressive density of shelters in the western posrtion of Al Zaatari camp as seen from space at a resolution of 50cm.