Submitted by

admin

on Thu, 05/11/2017 - 16:24
8 May 2017, Geneva, Switzerland – Ambassador Hakala, Permanent Representative of Finland, and Ambassador Londoño Soto, Permanent Representative of Colombia, co-facilitated the third meeting of the Friends of UNITAR. The meeting provided a excellent occasion for UNITAR to present its activities and prospective programmes to the diplomatic community in Geneva. Ambassadors and Permanent Representatives had the opportunity to share their enthusiasm and experiences, interests and guidance with respect to UNITAR's activities and programming priorities.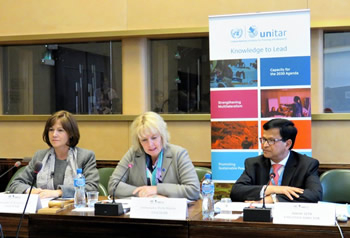 UNITAR's Executive Director, Mr. Nikhil Seth, presented a comprehensive overview of the Institute's beneficiaries' statistics and financial figures for 2016, and called for additional and more substantive funding from donor countries to support UNITAR in meeting growing demand and needs, particularly from countries in special situations, such as least developed countries (LDCs), landlocked developing countries (LLDCs), and small island developing states (SIDS).
UNITAR's activities in the field of women's leadership, sustainable development, road safety and disaster risk reduction, as well as the work of UNOSAT, were also highlighted as programmes which must be scaled up to meet growing requests from UN Member States.
UNITAR's new initiative on the Pakistan Evidence and Learning Platform (PELP) was presented to the Friends. The PELP is supported by the UK Department for International Development (DfID) and will establish a system for transfer of humanitarian knowledge and learning in Pakistan.
The Friends of UNITAR also recalled the Secretary-General's recent report on UNITAR (PDF) and the positive Resolution on UNITAR recently adopted by ECOSOC (PDF) emphasizing the importance of partnerships, the alignment of UNITAR's programming to support the implementation of key frameworks including the 2030 Agenda for Sustainable Development, and the need for strengthened support to the Institute.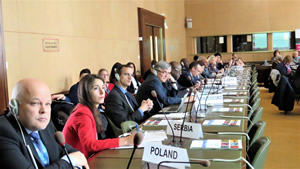 UNITAR is making an outstanding effort to reach out to the furthest first and leave no one behind, with 80% of its beneficiaries in 2016 coming from developing countries, and 50% of learning-related beneficiaries coming from countries in special situations. This third meeting was also particularly important for the Institute given the current preparations for the new strategic framework for the period 2018-2021, which will align the Institute's programming to the 2030 Agenda and will focus on the four pillars structure of the Institute's activities on Peace, Prosperity, People and Planet, all delivered in Partnership with governments, academic institutions, private sector and other stakeholders.
The new strategic framework will be guided by "The UNITAR We Want" statement (PDF) and "The 6-point vision" - Growth, Modernization, Innovation, Quality Assurance, Visibility and Openness and Inclusivity - which UNITAR's Board of Trustees welcomed at its last meeting in November 2016.
UNITAR looks forward to meeting again with the Group of Friends in November 2017, in advance of the next Board of Trustees meeting.
---
Photo 1: Ambassador Londoño Soto, Permanent Representative of Colombia (left), Ambassador Hakala, Permanent Representative of Finland (centre) and Mr. Nikhil Seth (right)
Photo 2: Participants of the meeting