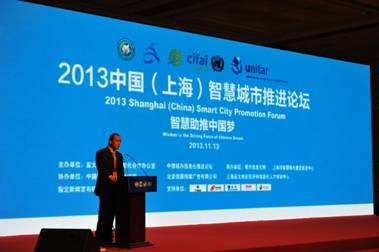 13 November, 2013, Shanghai, China - Smart City Promotion Forum 2013: "Wisdom is the Driving Force of Chinese Dream" was held successfully at Shanghai International Convention Center. CIFAL Shanghai in partnership with the Regional Cooperation Office for City Informatization and China City Informatization Promotion Forum, and with the support of the City Informatization Network, Shanghai Smart City Construction Promotion Center hosted the Smart City Promotion Forum to engage government leaders in how to promote city informatization. Government officials and industry leaders from over 40 cities from China and abroad participated in the forum.
Distinguish guests included Mr. HE Shouchang, Vice Director of Shanghai Cultural Creative Industries Promotion Leading Group Office and Mr. GAO Xinming, Vice Chairman of Internet Society of China, and Committee Member of the Advisory Committee for State Informatization. Mr. He Shouchang stressed during the forum "Acceleration of city informatized development requires us to explore the methods to transform and upgrade traditional industry, to promote urban management innovation, to create green economy and low-carbon life, and to encourage sustainable development"
At present, Shanghai is first in a couple of aspects, including WIFI coverage in public places, information infrastructure, intensified construction, pilot city for the integration of three network, FTTH capability, optical fiber subscription, WLAN coverage capability, and HD cable subscription. Furthermore, to encourage citizen's participation in the smart city development, smart city experience week 2013 was initiated in Nov. 2013 for one week. During this week, citizens will join discussion involving transportation, health care, education, political affairs, industry, community, information consumption and information security related issues.
Mr. GAO Xinming, Vice Chairman of the Internet Society of China and Committee Member of the Advisory Committee for State Informatization made three recommendations. First, information technology should be applied to the fields of transportation, natural resources, environment and public security. Second, government should encourage the employment of new technology such as the internet, big data, cloud computing. Third, government should open information to the public.
To close the forum, Mr. ZHANG Keping, Director General of Wuxi Municipal Bureau of Information and Radio summarized from his perspective what smart city development is in a few words: "smart city development is government oriented, enterprises centered, society participated, and market friendly.
Finally during the Forum, it was presented the Award for Corporate Excellence, the Award for Outstanding Contribution, the Award for Corporate Excellence, and Award for Distinguish Person. Cities, enterprises and individuals received the awards.