April 22, 2014. It is estimated that more than two thirds of the world's population lives in cities and urban areas. In this context, cities face enormous challenges such as growing population, increased density, limited capacity in local governments to manage and reduce disaster risks and the adverse effects of climate change, among others.
In the framework of the Seventh Session of the World Urban Forum and to contribute to the dialogue on how to plan "Cities for Life", UNITAR hosted a training session to foster the exchange of knowledge and best practices on enhancing local government's capacity to reduce disaster risk and manage disasters, while integrating these aspects into urban planning and design.
The training session took place in Medellin, Colombia on 11 April 2014 bringing together over 60 experts, practitioners, and representatives from academic institutions and civil society organizations from Latin America and the Caribbean. Experts from UNITAR, the Development Bank for Latin America (CAF) and industry leaders from AT&T shared their perspective on how they work in support of building resilient cities and businesses.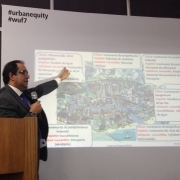 Mr. Diego Sanchez from CAF explained how the Bank is working with governments from the region to help them to identify threatening situations, reduce vulnerability and build citizens' capacity to overcome potentially strong destructive events, by planning specific projects. Geopolis was created by CAF as a network for disaster risk management and reduction, and to support countries to develop an integrated vision for implementing infrastructure projects that facilitate socially and economically sustainable growth.
Ms. Thelma Ramsook Director for Latin America and the Caribbean of AT&T's Network Disaster Recovery shared a private sector initiative that aims to rapidly restore communication services after catastrophic disasters. AT&T launched its Network Disaster Recovery program in 1992 to ensure rapid recovery of affected areas when disaster strikes and it has embraced a cross-stakeholder collaboration and government agency cooperation approach to successfully respond and recover from disasters. From the private sector perspective, the company identified as key sharing information and plan together, in a trust-based environment, before a disaster occurs, as well as during recovery and assistance efforts.
Capacity development is crucial for implementing disaster risk reduction strategies. UNITAR's Decentralized Cooperation Programme (DCP) provides training opportunities to government officials at the local and national level to enhance their capacity to reduce disaster risk by facilitating the exchange of best practices, experiences and approaches to better manage disasters, and promoting collaboration among governments, universities, research/training institutions and the private sector to develop more effective disaster response and preparedness strategies.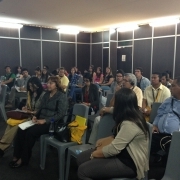 DCP also provides training opportunities through its global network of training centres "CIFAL". CIFAL Jeju in South Korea provides training opportunities to local government officials from Asia-Pacific to share strategies and best practices on building resilient cities and implementing the Hyogo Framework for Action. The CIFAL Merida in Mexico provides as well training sessions to government officials, airport authorities and civil aviation officials on how to better prepare the airports and communities from Mexico and Latin America in the event of hurricanes.

During the event, DCP with the support of CAF presented the publication titled "Enhancing Resilience to Disasters in Latin America. Promoting knowledge and best practice exchange". The publication aims to provide an overview of the Hyogo Framework for Action (HFA) and the progress made by Latin American countries. It also presents best practices and disaster risk reduction strategies implemented at the local and national level. Finally, it draws lessons learned from the international community and academic institutions regarding effective partnerships to better respond to disasters. View full report