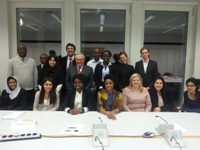 18 and 19 November 2013, Geneva, Switzerland - Twenty participants gathered in the International Environment House in Chatelaine with the purpose of gaining insight into the decision-making processes that take place across different bodies of the United Nations.
Delegates from Member States of the United Nations have the responsibility to suggest, discuss, draft, negotiate and adopt resolutions at the General Assembly, the Security Council and the Economic and Social Council of the United Nations. Resolutions are considered to be "formal expressions of the opinion or will of United Nations organs", and address substantial matters, with the ultimate aim of contributing to the achievement of the United Nations' objectives as a whole.
To enable the participants to achieve their goal of contributing to these negotiations in a more impactful way, the Multilateral Diplomacy Programme of UNITAR organized a two-day workshop aimed at familiarizing participants with the structure and the process leading to the adoption of United Nations resolutions. This workshop allowed participants to detect many issues that can come into play in the drafting and negotiation phases.
The Core Diplomatic Training organized by UNITAR was divided into two segments. The first day covered the structure and numbering of United Nations documents, with an emphasis on resolutions, while the second day shed light on the negotiation and adoption processes in the three relevant United Nations organs. Participants were provided with two full afternoons to put what they learned to the test, and complete practical exercises on drafting and negotiating resolutions.
The collective exercises focused on situations of amending a resolution and negotiating a joint proposition, carefully designed to fit the participants' practical needs. The overall subject matter and exercises were well received, with one participant stating: "Without a doubt, I would highly recommend this workshop to my colleagues."