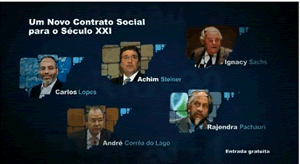 [2]The UN Institute for Training and Research, and the Ethos Institute [3], one of the global CSR drivers with more than 1,300 member companies, are organizing, with the support of the Government of Brazil, a High-Level Panel "After UN CSD: Are we on track for a 21st Century Social Contract?" [4] on 23 June, at 10.00am, in VIVO Rio [5] (next to Museu de Arte Modern), Rio de Janeiro, Brazil. The event is open to the public, and no registration is required. Among the speakers of this High-Level Panel are Dr. Rajendra Pachauri, Chair of the Intergovernmental Panel on Climate Change, Prof. Ignacy Sachs, the author of ecodevelopment and Honorary Professor at EHESS, Ambassador André Correa do Lago, Chief Negotiator of the Brazilian Delegation at Rio+20 and Executive Directors of UNEP and UNITAR Achim Steiner and Carlos Lopes.

After the closing of UN CSD, the High-Level Panel will provide an opportunity for reviewing the outcomes of the conference, and for discussing a Social Contract for the new century.

2012, the year of the UN Conference on Sustainable Development in Rio de Janeiro, marks also the tercentenary of Jean-Jacques Rousseau's birth and the 250th anniversary of his seminal book on the Social Contract. Time has passed, but Rousseau's ideas and those of other philosophers concerned with the question how to protect individual liberties, while achieving the common good and collective justice are as relevant as ever, as the world is struggling to revitalize the imperative of sustainable development in Rio.
Event flyer [6] (PDF, 1.5MB, in Portuguese)