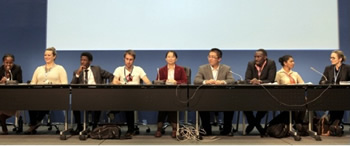 27 November 2012, Doha, Qatar - The youth continues to demonstrate they are an important stakeholder, who should be engaged in finding a sustainable solution to climate change. Youth representatives at the One UN side event "Climate Change and Education - Making the Future Work for You(th)" held on 27 November 2012 in Doha, Qatar, presented their activities aimed at raising awareness and engaging young people in addressing climate change. The event, attended by over 60 participants, was coordinated by the UN Environment Programme (UNEP) in partnership with the UN Educational, Scientific and Cultural Organization (UNESCO), the UN Children's Fund (UNICEF), the Secretariat of the UN Framework Convention on Climate Change (UNFCCC), the Food and Agriculture Organization (FAO) and UNITAR, along the margins of the 18th Conference of the Parties (COP 18) to the UNFCCC.

Mr. Qi Wanqi, Tongji University, China, shared about how a mentorship programme established at the university was raising awareness about climate change among primary school children. Ms. Holly Jones, British Council, informed participants about UNESCO's multidisciplinary approach to education and climate change, which incorporates both the scientific aspects and real life impacts of climate change. She highlighted that a complete education should provide knowledge and inspire actions to reduce the carbon footprint.

Ms. Guo Ru, Tongji University, China, presented on a collaborative partnership with UNEP, the UNEP-Tongji Institute for Environment and Sustainable Development, which seeks to strengthen scientific research and provide educational programs in environment and sustainable development. She emphasized that whereas education on the theory of climate change was important, adding a practical dimension was also required. Ms. Chathushka Amarasinghe, World Association of Girl Guides and Girl Scouts (WAGGS), shared an example of how FAO was supporting their outdoor activities to enhance young girls' awareness of the environment and how it can be protected. She attributed her commitment to protect the environment from her activities as a young girl guide.

The panelists also shared their views on how youth could proactively engage with decision-makers and be invited to participate in the climate debate. Mr. Daniel Ajiroba, Nigeria Youth Climate Coalition, discussed how the youth in Nigeria, by documenting the results of their school farming activities and monitoring the resulting behavior change, were able to engage with the government and be recognized as an important stakeholder. Mr. Jamie Peters, UK Youth Climate Coalition, discussed how by linking climate change, green jobs and the high youth unemployment rate, they had convinced politicians to include them in discussions about how to frame and transition to a green economy that creates green jobs for youth.

Presenting about the support available to enhance climate change education and awareness raising, Ms. Stephanie Hodge, UNICEF introduced a resource toolkit for climate change education, developed by UNICEF in partnership with UNESCO, UNEP and UNITAR, that will provide guidance to governments on how to integrate climate change education into school curricula. Mr. Bob Natifu, Ministry of Water and Environment, Uganda, shared how through support provided by UN CC:Learn, Uganda is developing a National Strategy to Strengthen Human Resources and Skills to Advance Green, Low Emission and Climate Resilient Development, including a number of priority action. He highlighted that in the short term one of the priorities was to engage with schools so they can implement climate change awareness-raising activities.

Providing summary comments about the discussions, Ms. Yvonne Maingey, former Tunza Youth Advisor for the African region, UNEP, also the side event moderator, concluded that partnerships were critical to enhance youth participation. She underscored the need to build on existing networks to promote climate change education and action among the youth including engaging with policy makers.
---
Photo: Panelists explored youth initiatives for climate change awareness-raising and education. Source: IISD