Eight negotiators and officials from Africa, the Middle East and Europe were nominated by their organizations to participate in this two-day event, which was held at the Palais des Nations in Geneva, home of the United Nations Office at Geneva since 1946.

The seminar was directed by senior negotiation expert Dr. Osvaldo Agatiello, Professor at Geneva School of Diplomacy and International Relations and consultant to international organisations as well as national governments.

The diversity of participants and countries represented led to insightful discussions on topics such as culture-related problems when negotiating and different types of approaches in negotiation.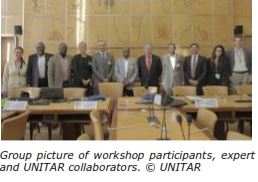 On the second day of the seminar, participants were asked to split into two groups for a negotiation simulation exercise. This group task allowed participants, who took the activity to heart, to put into practice the theory acquired throughout the course.

All government and business executives who completed and returned the feedback questionnaire distributed at the end of the workshop indicated that they will likely use the information acquired through the workshop in their job. Likewise, 83% of respondents indicated that they will recommend this workshop to a colleague with similar job responsibilities.

One of the participants, Mr. Alexandru Paunescu (Head of Legal Department, Central Bank of Romania), when asked how useful the course would be for his career, answered: "The course will have an impact on my professional life. My job requires negotiations on a daily basis, whether it is with my colleagues, employees or with unions, so the skills acquired in this workshop will be most useful".

On the whole, participants provided very positive feedback on the seminar. Below is a comment from Mr. Okechukwu Arinze Uhuo (China Civil Engineering Construction Corporation, Nigeria Branch):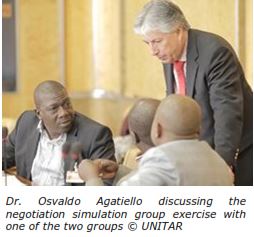 "I have been involved in negotiations before, but this course has opened up a new horizon for me, a new way of conducting negotiations. When I get home, I will use the tools I have learnt from this training, which has changed my way of looking at negotiations."

This workshop is the first of UNITAR's Public Finance and Trade Seminar Series. It aims to train senior government and business executives in all parts of the world on key issues related to negotiation. This series of seminars is expected to equip government and business executives with the skills to succeed in today's highly ambiguous, uncertain and changing environment.

This Seminar Series draws extensively on UNITAR's active network of renowned international experts and practitioners, who each possess a wealth of academic and practical experience. This ensures that real-world examples, which facilitate experiential learning, are integrated into the coursework. These experts not only provide the course content and documentation, but also work closely with UNITAR to strengthen the pedagogical and practical aspects of the leadership training.

Mr. Arinze Uhuo expressed his impression of the course director: "The Professor really knows what he is talking about thanks to his past experience".

This year, UNITAR will organize a seminar on "High Performance Leadership in Times of Ambiguity, Uncertainty, and Change" at Palais des Nations in Geneva from 27 to 28 November 2013. For further information and online registration please see http://www.unitar.org/pft/events.