14 November 2013, Geneva, Switzerland, - Nobel Prizes winners Martti Ahtisaari of Finland (2008) and José Ramos-Horta of Timor-Leste (1996) shared their recipes for peace while participating yesterday in the 8th edition of the UNOG-UNITAR Geneva Lecture Series. The event was an opportunity for a Geneva-based audience to learn from the guest speakers' knowledge rooted in diverse personal experiences but largely complementary in nature. It featured short lectures by the two peacemakers followed by a debate with some 600 to 700 participants, coming from the diplomatic community, Universities, academia, NGOs and international organizations.
A number of common themes have emerged from the discussion, such as the importance of trust, and inclusionary policies for building peaceful societies, as well as that of compassion and humility as the great qualities of leadership. The two peace-makers provided insights drawing on their own experiences: Nordic model in Martti Ahtisaari's case, and Timor-Leste's experience in José Ramos-Horta's case.
Mr. Ahtisaari, former President of Finland, stressed the concept of trust as key to peacemaking processes. A supporter of the Nordic model, he argued that egalitarian principles and income distribution help to build trust and avoid societal tensions. "A recipe for better life: Experience form Nordic countries" report prepared by the CMI, a NGO founded by the Nobel Peace Prize laureate, provides some important evidence from the region in support of this statement.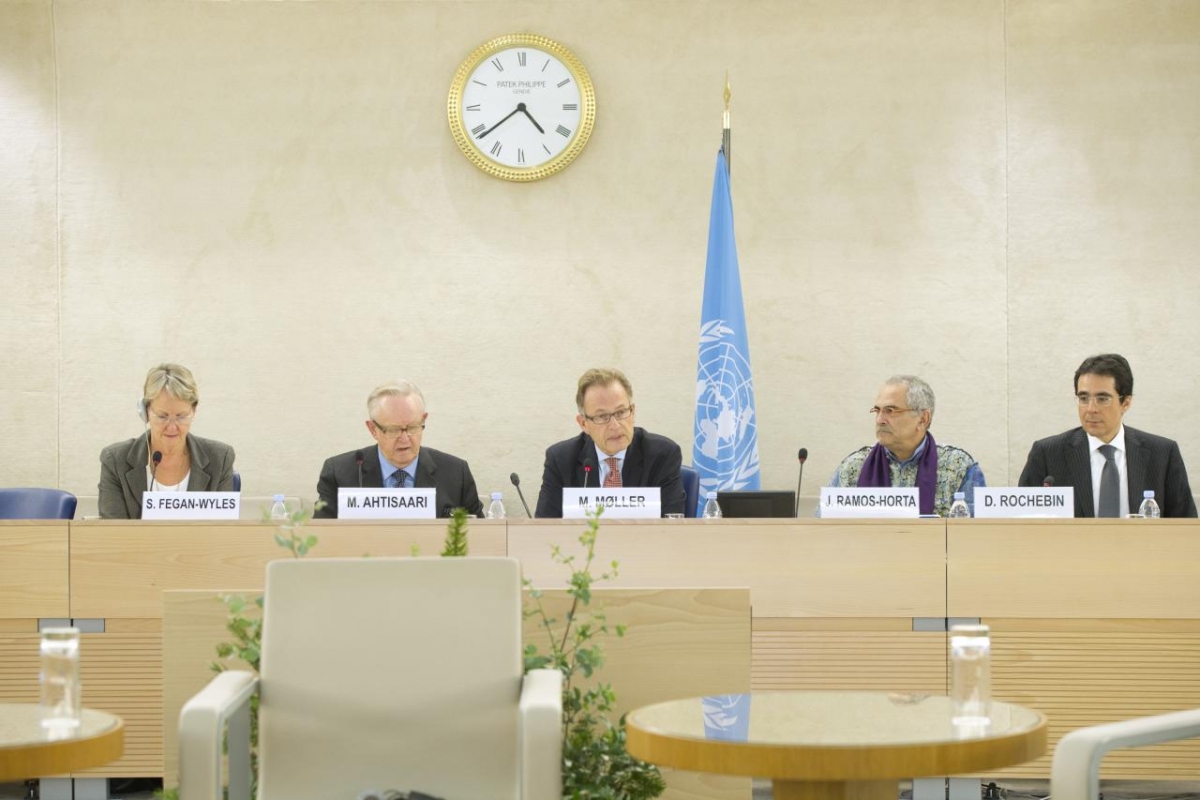 The importance of generosity of spirit shown by the winner to the opposition was an important issue raised by Mr. Ramos-Horta, Special Representative of the Secretary-General in Guinea-Bissau and former President of Timor-Leste, during the Lecture. A "winner takes all" attitude just lays the foundation of future conflict. Touching upon the issue of political, civil and cultural rights, he noted that exclusionary policies won't work in multiethnic, multi-religious societies.
Mr. Ramos-Horta said that a pragmatic approach may be required in order to promote reconciliation. When responding to a question about transitional justice, Mr. Ahtisaari noted that "the real work starts after the peace agreement is signed... Reconciliation takes always time…" Both agreed the success of peacemaking depended on whether the parties were ready to negotiate.
Quotes: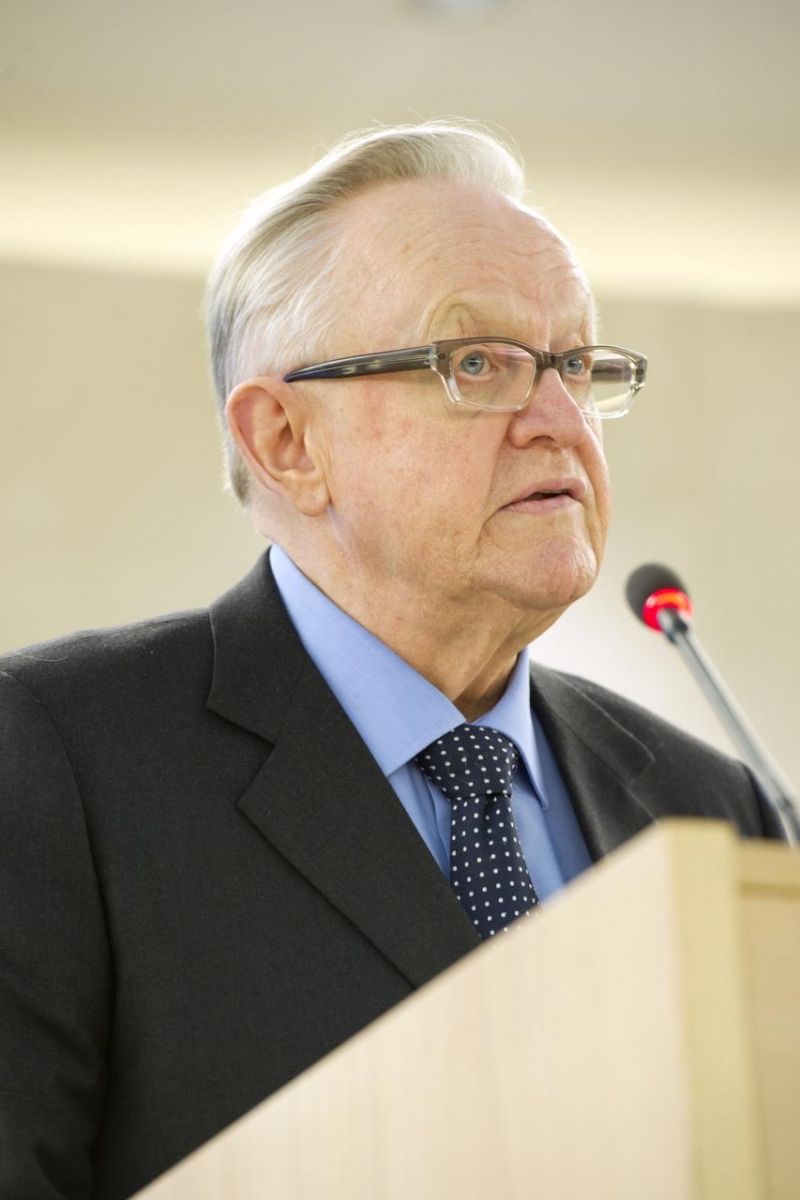 Martti Ahtisaari
"Conflicts are rooted in poverty, feelings of insignificance, and the peoples' experiences of unfairness."
"If we consider conflict resolution and mediation only as a redistribution of political and economic powers as many mistakenly take it, we will never succeed. All the issues and even all the sectorial policies I just listed (health, education cultural and social capital) have to be taken into account when negotiating and implementing peace. Sustainable peace is not measured only by the absence of violence and violence structures, but by opportunities and functions available in a society."
"Without trust, peacemaking is not feasible."
"The real work starts after the peace agreement is signed…. Reconciliation always takes time… In order to help the transitional justice, we should try to help reconciliation processes going on at the national level with the help of the civil society in those areas… when a peace agreement is signed we are trying to create a framework for a new beginning."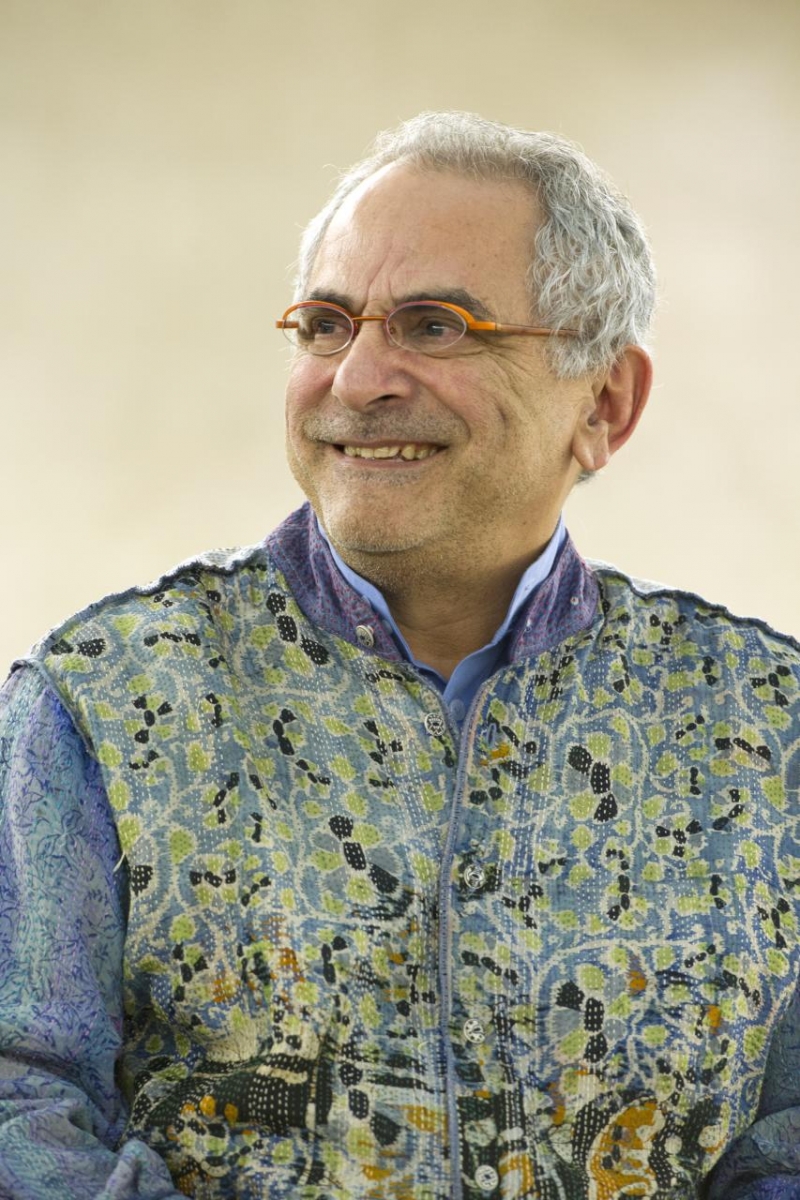 José Ramos-Horta
"In victory be magnanimous, never seek to humiliate the adversary; if he is on his knees hold his hands and plead with him to rise up, embrace him; walk halfway and meet the vanquished ones, embrace them, invite them to join in a new enterprise of peace, a new future for all."
"No one wants to be in opposition. Through education, habits, years, you learn to be in opposition."
"In some countries, respecting diversity is perceived as undermining the State when in fact we should look at this as wealth."
********************************************************************
The event was organized jointly by the United Nations Office at Geneva and UNITAR. It was supported by a number of partners, such as City of Geneva, Republic and Canton of Geneva, Swiss Federal Department of Foreign Affairs, Fondation pour Genève, Tribune de Genève, and Radio Télévision Suisse.