Submitted by

admin

on Tue, 07/24/2018 - 15:53
2 July 2018, Geneva, Switzerland – Ambassadors and representatives of Permanent Missions in Geneva were invited to join our 5th Friends of UNITAR Meeting, to learn more about UNITAR, its activities and our new Strategic Framework 2018 - 2021.
The two Co-Chairs, Her Excellency Ambassador Terhi Hakala (Finland) and Her Excellency Ambassador Beatriz Londono Soto (Colombia) opened the event followed by a welcome message by UN Assistant Secretary-General and UNITAR Executive Director, Mr. Nikhil Seth.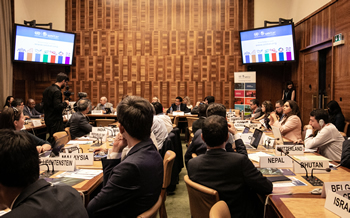 The meeting brought together Ambassadors and representatives from donor and beneficiary governments to meet and engage with the Executive Director and UNITAR Division Directors, following the adoption of UNITAR's 2018-2021 Strategic Framework at its 58th Board of Trustees Session in November 2017. This was the first time that UNITAR presented to Geneva's diplomatic community its new organizational, budgetary and programmatic structure which is now fully aligned with the 2030 Agenda for Sustainable Development and presented its newly published 2017 Results Report.
During this meeting, five short presentations covering UNITAR's thematic and crosscutting work areas were presented by UNITAR's Directors: Mr. Alex Mejia, Director of Divisions for People and Prosperity; Mr. Evariste Karambizi, Director of the Division for Peace; Mr. Jorge Ocana, Officer in Charge for the Division for Planet; Mr. Einar Bjorgo, Director of the Division on Satellite Analysis and Applied Research, and Mr. Rabih El Haddad, Director of the Division for Multilateral Diplomacy. Many Ambassadors and representatives congratulated Mr. Seth and his staff for UNITAR's excellent work which benefited over 57,000 individuals in 2017 alone.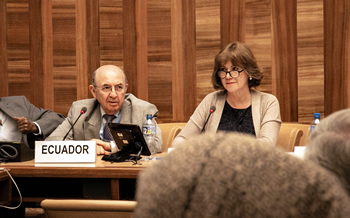 At the end of the meeting, Mr. Seth and the Co-Chairs emphasized the value of UNITAR's work and called for additional support to allow UNITAR to further expand the scope of its activities to reach even more beneficiaries in 2018 - 2019.
After the meeting, the Executive Director of UNITAR and His Excellency Ambassador Luis Gallegos, signed UNITAR's new cooperation agreement with the Government of Ecuador, committing to continued and strengthened cooperation between UNITAR and Ecuador.
On the beautiful, warm and sunny evening, the meeting was followed by a reception hosted by the Government of Ecuador in the Salle des Pas Perdus. An excellent celebration of a successful afternoon!
---
Photo 1: (from left to right) The two Co-Chairs,Her Excellency Ambassador Beatriz Londono Soto (Colombia), Her Excellency Terhi Hakala (Finland) and UNITAR Executive Director, Mr. Nikhil Seth
Photo 2: Participants of th meeting listening to a presentation
Photo 3: (from left to right) His Excellency Ambassador Luis Gallegos (Ecuador) and Her Excellency Ambassador Beatriz Londono Soto (Colombia)