19 June 2013, Abidjan, Côte d'Ivoire - In the framework of the "Basel Convention on the Control of Transboundary Movements of Hazardous Wastes and their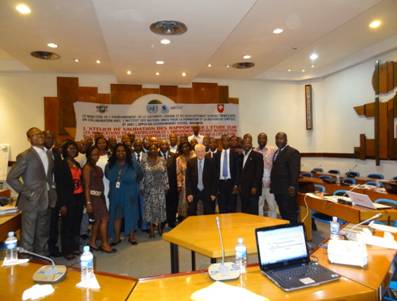 Disposal," a project entitled "Implications of ratification of the Basel Convention Ban Amendment for Côte d'Ivoire," aimed at facilitating the ratification of the Ban Amendment in Cote d'Ivoire, with financial support of the Swiss Government and technical support of UNITAR, was implemented from December 2012 to April 2013 (the Amendment will prohibit exports of hazardous wastes covered by the Convention that are intended for final disposal, reuse, recycling and recovery, from Parties and other States members of the OECD, EC, Liechtenstein, to all other countries).
The project resulted in a technical study analysing the national situation related to import of hazardous wastes and the implications of ratification of the Ban Amendment in Côte d'Ivoire, a legal analysis of steps needed to ratify the Ban amendment, and a draft legal text.
Project implementation led to two key outcomes:
The forthcoming ratification of the Ban Amendment to the Basel Convention represents a crucial step for Cote d'Ivoire towards protection of the environment and human health from hazardous wastes by enabling prohibition of exports of hazardous wastes covered by the Basel Convention from industrialized countries.
UNITAR, together with the Government of Cote d'Ivoire, wish to express once more their gratitude to the Government of Switzerland for its support towards the implementation of the Basel Convention and the Ban Amendment.