16 May 2014, Stockholm, Sweden - The Global Forum on Migration and Development (GFMD) was established in 2007 and is a voluntary, informal, non-binding and government-led process open to all Member States and Observers of the United Nations, to advance understanding and cooperation on the mutually reinforcing relationship between migration and development and to foster practical and action-oriented outcomes.
The 2013-2014 GFMD, chaired by the Swedish Government, has contributed to the debate on migration and post-2015 agenda by organizing discussions on the development aspects of migration in Geneva, Stockholm and New York in the lead up to the 2014 "Civil Society Days and 7th GFMD Forum Meeting," taking place in Stockholm from 12-16 May 2014. The focus of the meeting was on the substantive themes of integrating migration in global, regional and national development agendas; migration as an enabler for inclusive economic development and migration as an enabler for inclusive social development.
UNITAR is a member of the UN informal working group on migration in the post-2015 Development Agenda established by the Special Representative of the Secretary General on International Migration, which serves to strategize and advocate for inclusion of migration into the post-2015 development agenda. UNITAR also contributes to the GFMD through its role in the Global Migration Group (GMG) and the organization of the first Mayoral Forum on Migration, Mobility and Development, organized by the City of Barcelona and UNITAR on 19-20 June 2014. The Mayoral Forum was announced during the GFMD side-event entitled "Local authorities: the missing link in harnessing the potential of migration for development," organized by the Joint Migration and Development Initiative (JMDI) implemented by UNDP in collaboration with IOM, ITC-ILO, UNHCR, UNFPA, and UN Women, and funded by the European Commission and the Swiss Agency for Development and Cooperation. For more information contact: Dr. Colleen Thouez at thouez@un.org.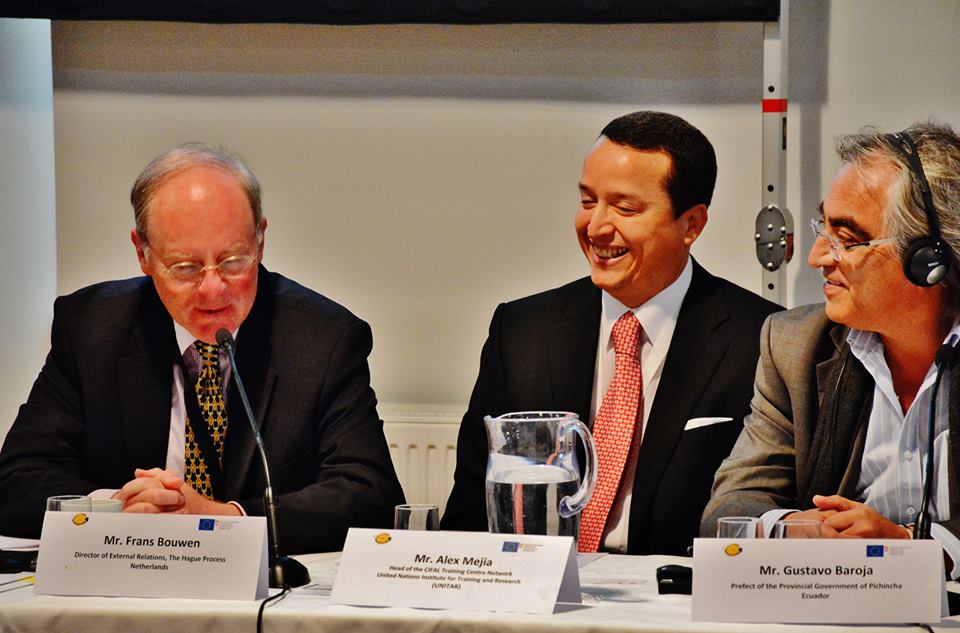 Mr. Alex Mejia, Manager of UNITAR's Decentralized Cooperation Programme and Head of the CIFAL Global Network, participated in the side event to discuss the training priorities of UNITAR's Human Mobility Programme including strengthening local governance through its Learning Platform on Human Mobility (LPHM) and facilitating policy dialogue on migration issues through the Mayoral Forum, which will provide a high-level complement to the work of UNITAR's Learning Platform on Human Mobility (LPHM). In gathering 30 mayors from around the world, the Forum will serve to: catalyse policy leaders in cities and regions around the key challenges and opportunities of mobility and development; shape a vision for what is required to carry a "mobility and development" agenda forward for cities and regions; and channel global visibility on the role played by sub-national government in this field. (https://www.unitar.org/ldp/facilitating-policy-dialogue)