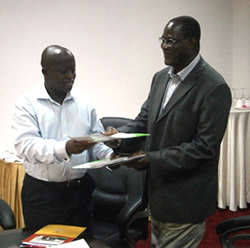 2 November 2012, Accra, Ghana - During the week of 29 October 2012, a number of key milestones were reached in the "GEF/UNITAR/UNDP/EPA-Ghana Project on Capacity Building for the Elimination of PCBs in Ghana". In particular, the 5th session of the Project Steering Committee (PSC) convened on 1 November 2012, followed by a press briefing (for TV, radio and print media in Ghana), a signing ceremony of the environment, health and safety guidelines for PCBs (for the electricity utilities sector, and as a symbol of the utility companies' commitment), and the handover of the L2000 analysers (a tool for testing PCB contamination levels).
During the 5th PSC meeting, key documents were reviewed, including the draft:
legislative bill on the control and management of PCBs in Ghana
national PCB management plan
communications strategy for PCBs for stakeholders and the public
environment, health and safety guidelines for PCBs.
The latter were formally endorsed by Ghana EPA and the Volta River Authority (VRA), on behalf of the electricity utility companies of Ghana in the signing ceremony.
UNITAR is supporting Ghana to eliminate Polychlorinated biphenyls (PCBs) because they are a class of man-made compounds that were manufactured and used extensively in electrical equipment such as transformers and capacitors. However, PCBs are considered to be immunotoxic and affect reproduction. Once released into the environment, PCBs do not break down but travel over long distances and continue to pose health risks to humans as well as danger to the environment. PCBs are a listed chemical under the Stockholm Convention on POPs.
This project is executed nationally by the Ghana Environmental Protection Agency (Ghana EPA) and internationally by UNITAR, with support of UNDP and financing of the Global Environment Facility (GEF).
---
Photo 1: Mr. John Pwamang (right, Director EPA Ghana) and a representative from the Volta River Authority at the signing of the environment, health and safety guidelines for PCBs
Photo 2: Jonathan Krueger from UNITAR (left) and Mr. John Pwamang handing over PCB testkits to national stakeholders
---
Relevant press coverage:
www.ghananewsagency.org/details/Health/Polychlorinated-Biphenyls-can-cause-cancer-EPA/?ci=1&ai=51564#.UJqpNYZQTUw
www.ghanaweb.com/GhanaHomePage/NewsArchive/artikel.php?ID=255600