Submitted by

admin

on Tue, 06/27/2017 - 11:44
26 - 27 June 2017, Berlin, Germany – On Monday 26 and Tuesday 27 June Governing Mayor Michael Müller of Berlin is hosting the 4th Mayoral Forum on Human Mobility, Migration and Development, an annual convening of Mayors launched by UNITAR and its partners in 2013. Over 150 mayors ranging from Juba to Zurich are gathering along with local, national and regional government representatives, international organizations, philanthropic foundations, and civil society to discuss the crucial role that cities play in governing human mobility.
The annual Mayoral Forum is a city-led global initiative that aims to propose new and innovative approaches to urban governance in contexts of greater diversity, and supports city leaders in the implementation of migration policies for inclusive growth. The Forum highlights the practical and inventive solutions that local authorities develop to govern migration, examining how these can be replicated elsewhere. It serves as a global platform for the exchange of best practices on integrating migration into development planning, and on fostering connections between migrants' territories of origin and destination.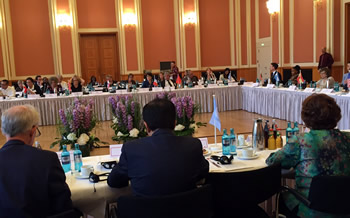 The Berlin Mayoral Forum theme, "Mayors as Humanitarian and Development Actors – Preparing, Welcoming, and Integrating" is taking place at Berlin's City Hall. With an opening by the United Nations Assistant Secretary General and Executive Director of UNITAR, Mr. Nikhil Seth, with the High Commissioner for Refugees, Mr. Filippo Grandi, the Keynote address will be delivered by the United Nations Representative of the Secretary General for Migration, Ms. Louise Arbour. Deliberative sessions will focus on: how cities bridge humanitarian assistance for refugees and vulnerable migrants, and longer-term development prospects; local implementation of the 2030 Sustainable Development Agenda and its Sustainable Development Goals (SDGs); and multi-sector partnerships, and policy coherence within government for achieving solutions to migration and refugee protection challenges.
The priorities highlighted by cities at the Berlin Mayoral Forum will be conveyed to governments in the context of the Global Forum on Migration and Development (GFMD), the annual inter-governmental deliberations, which are chaired by the Government of Germany and Morocco on 28 June through 1 July 2017 also in Berlin.
The outcomes of the Berlin Mayoral Forum will also inform two distinct processes to which States committed last September 2016 in the context of the New York Declaration for Refugees and Migrants. These are the "global compact for safe, orderly and regular migration" (GCM), and the global compact for refugees. Within the consultative process underway towards the GCM, local authorities are invited to contribute their perspectives as first receivers of migrants. This builds on recent calls for greater empowerment of cities and local authorities, including by ensuring their access to inter-state deliberations, and strengthening of the Mayoral Forum as a mechanism to channel cities' key experiences into the consultative process for the Global Compact on Migration.
Co-founders of the annual Mayoral Forum – the United Nations Institute for Training and Research (UNITAR), the International Organization for Migration (IOM); the Joint Migration and Development Initiative (JMDI), the World Bank's Global Knowledge Partnership on Migration and Development (KNOMAD), and the Swiss Agency for Development and Cooperation (SDC); the Fourth Mayoral Forum in Berlin is also implemented in partnership with the Organisation for Cooperation and Development in Europe.
---
Photo: Speakers and participants of the Mayoral Forum