Submitted by

admin

on Wed, 02/22/2017 - 17:07
20 February 2016, Geneva, Switzerland – On 20 February 2016, the University of Geneva and the United Nations Institute for Training and Research (UNITAR) hosted the launching event of the Master of Advanced Studies in European and International Governance (MEIG Programme) entitled: "Global Governance Challenges - What Role for The United Nations?"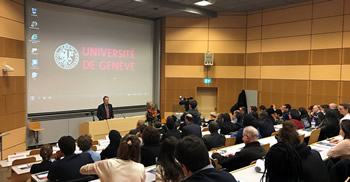 The event took place at the University of Geneva and Mr. Michael Møller, Director-General of the United Nations Office at Geneva, delivered a speech on the increasing need for such a programme in order to better face the new types of challenges and conflicts that the world is witnessing.
Mr. Møller explained that in an increasingly interconnected world, there is a need for shared responsibility and international solidarity, and that international, European and regional, organisations, multinational firms, NGOs, as well as individuals need to all reflect together on changing the global landscape. In our modern world, individuals can no longer count on a government itself, as academia, civil society private companies, and all actors, including very single one of us – have the power to contribute to the Sustainable development goals of the United Nations.
The speech was followed by a fruitful discussion between the audience and Mr. Møller, in which they both highlighted the need to address new challenges with a multidisciplinary approach, and that this Master offered a great overview on both European and international governance.
The University of Geneva and UNITAR look forward to welcoming the new participants of 2018.
---
Related link
Further information about the Master Programme and the application wave for next year's edition can be found at http://www.meig.ch/.
Global Governance Challenges: What Role for the United Nations: Speech by Mr. Michael Møller, United Nations Under Secretary-General, Director-General of the United Nations Office at Geneva
---
Photo: Mr. Michael Møller, Director-General of the United Nations Office at Geneva delivering a speech