Submitted by

admin

on Wed, 11/23/2016 - 11:02
Looking forward, UNITAR will continue to grow and strengthen its programmatic activities, with the Goals and Targets of the 2030 Agenda firmly at the core of UNITAR's functions and objectives. This is the vision as articulated by UNITAR Executive Director, Nikhil Seth, at the recent 57th Session of UNITAR's Board of Trustees (BoT) held in Geneva from 17 - 18 November 2016, at the Palais des Nations, the European Headquarters of the United Nations in Geneva, Switzerland.
Chaired by Her Excellency Ambassador Taous Feroukhi, the BOT reviewed programming, financial and operational aspects of UNITAR's activities and welcomed UNITAR's vision on the path to its new strategic planning framework for the forthcoming 5 years, namely "The UNITAR We Want".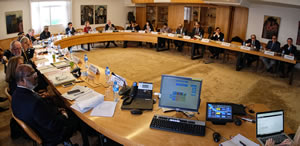 The BOT welcomed several new Members including His Excellency Mr. Chibuike Amaechi, Minister of Transportation of the Republic of Nigeria, Ms. Diana Chavez, the Executive Director of the Latin American and Caribbean Regional Centre for the Support of the Global Compact, Her Excellency Ambassador Nazhat Shameem Khan, Permanent Representative of the Republic of Fiji to the United Nations in Geneva and other international organizations in Switzerland, and Professor Yukie Osa of the Graduate School of Social Design Studies of the Department of Sociology at Rikkyo University and President of the Association for Aid and Relief (AAR), Japan, .
Mr. Seth, gave an overview of the organization and presented some highlights from UNITAR's 2015 activities, as presented in the Annual Results Report.
UNITAR managers and staff presented various new programming areas, including UNITAR's work on the 2030 Agenda, road safety, UNOSAT's 15 Anniversary, and UNITAR's growing CIFAL network of affiliated training centres around the world.
Presentations were also made covering various aspects of UNITAR's work on quality assurance, knowledge management, communications and new resource mobilization strategy.
The annual BOT meeting was preceded by the biannual Friends of UNITAR meeting on 16 November 2016 at the Palais des Nations, providing an excellent forum for Ambassadors from Geneva's diplomatic community to share in the vision, growth and direction of UNITAR and ensure that UNITAR's future programming is aligned with the needs of its beneficiaries and priorities of partners. The next meeting of the Friends of UNITAR will take place in May 2017.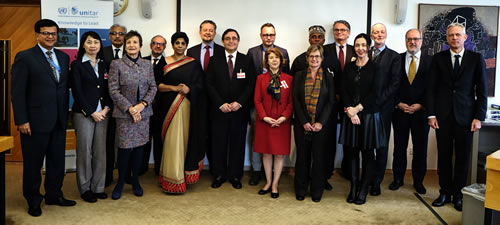 ---
Related links
---
Photo 1: UNITAR Board of Trustees in session
Photo 2: UNITAR Board members and the UNITAR Executive Director (far left) and the Secretary of the Board (far right)