23 November 2012, Addis Ababa, Ethiopia - The second High-Level Seminar organized by UNDP and UNITAR, Towards a Culture of Prevention: Addressing Challenges to Mediation in Africa and in a Globalized World,brought together more than 70 officials working in the fields of peace and security in Africa to discuss mediation and its values as a powerful mechanism for conflict prevention and peacemaking.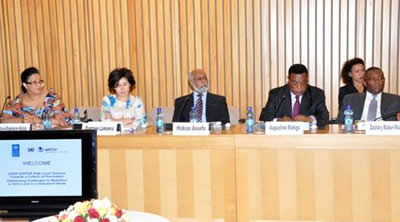 The High-Level Panel included Commissioner for Peace and Security of the African Union Commission, H.E. Mr. Lamtane Ramamra (represented by an alternate); H.E. Mr. Augustine Mahiga, Special Representative of the Secretary-General for Somalia and Head of the United Nations Political Office for Somalia; and Ms. Marie-Madeleine Kalala, Member of the Panel of the Wise of the African Union. Mr. Zachary Muburi-Muita, Special Representative of the UN Secretary-General and Head of the UN Office to the AU contributed as presenter.
The seminar examined issues such as how the inclusive and problem-solving values of mediation can be reflected in society and in governance structures to solidify gains made in the resolution of conflict in order to build a lasting foundation for peace. Given that many important structures in societies are still largely governed by win-lose systems in which those in power benefit, and those who lose often accumulate grievances, this is a most pressing question. Mediation has been used as an instrument to give birth to elections and democratic processes. While mediation itself seeks a win-win solution, elections and social systems driven primarily by competition and a market economy can inadvertently embody a win-lose logic. These can be destaballizing factors in particular in situations where a fragile peace has just been established.
Professor Hizkias Assefa, serving as Moderator of the high-level seminar, then raised the following questions for the consideration of the gathered officials from around the continent:
How can we make our political, economic and social governance systems reflect the win-win values and principles of mediation in the interest of durable peace?
What more do we need to do in our current mediation efforts in order to help us move towards realizing this goal?
What role could the African Peace and Security Architecture play in this endeavour? What could we as officials, scholars and African citizens do to contribute to making this possible?
P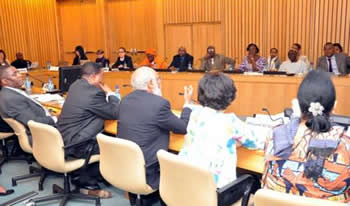 articipating officials included staff and liaison officers of the African Union, Regional Economic Communities, and AU and UN peace missions, representatives of the African Union Peace and Security Council Member States, as well as officials from Ministries of Foreign Affairs and Offices of Heads of States in Africa.
After the presentations by the panellists and speaker, the floor was opened for informal discussion. During the deliberations the following points were raised and observations made:
In mediation, it is crucial to address root causes of conflicts such as distortion of power, and lack of access to basic needs and resources.
There is a need to think about constitutions – how they can reflect systems that do not divide people.
Africa ought to develop and refine its own approach to mediation.
There is a need for a historical perspective including the study of pre-colonial political systems and how these can enhance current approaches to governance.
This opportunity must be taken for Africans to freely determine their political systems, and re-consider issues such as lack of political responsibility, and to assess what power really means and the responsibility inherent in holding office.
The consolidation of key governmental institutions is necessary for democracy to function.
We have the possibility to speak with one voice through the African Union.
It is important to work more with the public – by way of education and other approaches - so they feel ownership of their governments.
Illiteracy must be tackled – 80% of people are locked out of politics.
Political governance needs to be addressed along with economic governance.
---
Photo 1: From left to right: Ms. Marie-Madeleine Kalala, Member, African Union (AU) Panel of the Wise; Ms. Sheyam El Garf representing H.E. Mr. Ramtane Lamamra, AU Peace and Security Commissioner; Professor Hizkias Assefa, Moderator; H.E. Mr. Augustine Mahiga, Special Representative of the UN Secretary-General for Somalia; and Mr. Zachary Muburi-Muita, Special Representative of the UN Secretary-General and Head of the UN Office to the AU.
Photo 2: Speakers and participating officials at the High-Level Seminar