4 March 2014, Hiroshima, Japan - Green Legacy Hiroshima, the global Initiative supported by UNITAR, the NGO
ANT-Hiroshima
and a host of local and global partners, which was co-founded by UNITAR's senior advisor Nassrine Azimi and ANT executive director Tomoko Watanabe, has won the prize awarded by the Hiroshima Peace Creative Fund. The award ceremony took place in Hiroshima on 3 March 2014.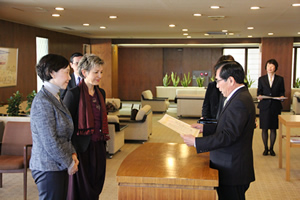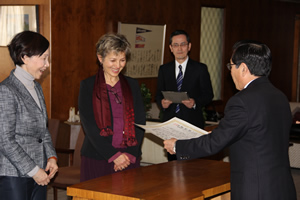 Since 1994, when Hiroshima hosted the Asian Games, many groups and individuals have developed international exchanges to encourage mutual understanding and long-lasting friendships.
The prize started as part of the activities of the Hiroshima International Culture Foundation in 1998, and was succeeded since 2012 by the Hiroshima Peace Creative Fund. Two other groups - the Hiroshima Volunteer Interpreters and SALAM, a women's group assisting Palestinian counterparts, also won awards.
---