2 April, Geneva, Switzerland - Professor Anne Glover holds an important position at the European Commission: she is the first Chief Scientific Adviser to the President of the Commission. Her office was established in 2011 by Mr Barroso with the mandate to provide analysis and independent expert opinions, advise on novel science, technology and innovation issues arising both in the context of the EU and internationally, and to communicate the scientific values of the European Union and its member states.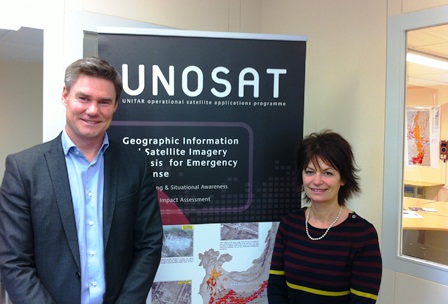 Ms Glover, who is a biologist by training and had served as top scientific advisor for the Scottish government before joining the Commission, visited UNOSAT on 26 March where she discussed with the Manager Einar Bjorgo and his team the current use of satellite technology and UNITAR applied research plans. She also met with UNITAR Executive Director to round up her first visit to the Institute.
UNITAR and the Commission have a long standing partnership in the area of scientific research. UNOSAT has been a research partner in numerous European projects to explore and test the potential of geospatial information and satellite analysis in a number of key strategic areas ranging from humanitarian assistance, to human security, to environmental monitoring.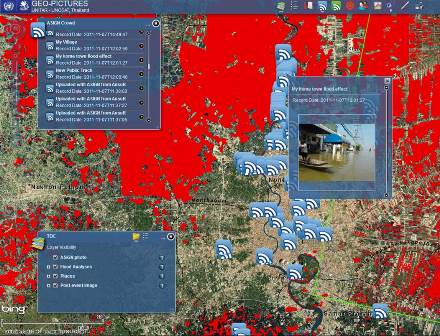 Currently, UNOSAT is part of a EU research team studying the use of citizen cyberscience. "Most of these international research ventures produce solutions that directly contribute to positive changes" says Bjorgo. "Recent projects like GEO-PICTURES and the UN-ASIGN app are good examples of knowledge developments in one domain (emergency response) become useful when transferred to other domains like disaster risk reduction".
Glover was interested in the role of UNOSAT as a research player with an operational profile and how knowledge developed through applied research can be quickly transferred to beneficiaries within and outside the UN system. Regarding her impression of UNOSAT, Ms Glover says "I was very impressed by my visit to UNOSAT. It is an outstanding example of a very small dedicated team having a great impact on key issues such as dealing with global disasters e.g. flooding or human migrations. Harnessing technology and information in such imaginative ways makes a real difference in peoples' lives."
There is known complementarity between UNOSAT and the European Commission in providing services to the humanitarian community. For example, the coordination between ECHO's Monitoring and Information Centre (MIC) and UNOSAT has been working very well for years and means greater efficiency for both EC and United Nations decision-making processes.
In 2010 Mr Barroso began his second term as President of the Commission with a strong focus on putting the Commission's science, research and innovation role at the top of the political agenda. The creation of the post of Chief Scientific Adviser is part of this new strategy.
---
Top: Ann Glover and Einar Bjorgo at UNOSAT production centre on the CERN Campus. Bottom: a screenshot from the UN-ASIGN App web service which allows citizaens in crisis areas to send live images, video and and voice to UNOSAT mapping centre.
Images by UNITAR/UNOSAT