15 August 2014, Shanghai, China – UNITAR's training centre CIFAL Shanghai hosted the Smart City Public Lecture IX "The Pivotal Role of Internet in the Development of Smart City" on 30 July at Shanghai Science Hall. This one-day event convened 69 participants from the government, private sector, public institutions, and academia.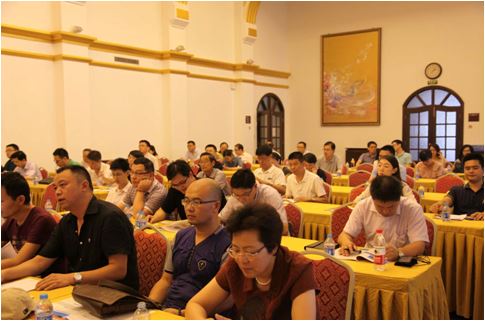 This event is part of a series of 10 Smart City Public Lectures aimed at raising awareness about smart city development. The series of lectures serve as a unique platform to exchange ideas and experiences as well as to network and identify opportunities for business and cooperation.
The lectures inform participants about Internet's crucial role in the development of a Smart City, the development trend of Smart City and information security. They are all highly interactive and include expert presentations, case study analysis, open discussions as well as dialogue and networking opportunities.
During lecture IX, Mr. LIU Rong, Deputy Director of the Sales Department of HUAWEI Technology Co., Ltd. and expert in smart city development, delivered a presentation on the future of and the correlation between internet and smart city, risk of internet, illumination and judgment. The lecture was enlivened by a case study of Shanghai smart city development and accomplishment, and by an open discussion session.
The Smart City Public Lecture IX was implemented in partnership with the Shanghai Municipal Commission of Economy and Informatization, Shanghai Association for Science & Technology, Shanghai Smart City Promotion Center, Shanghai Science Hall, and HUAWEI Technology Co., Ltd.
Through this series of ten monthly public lectures, a wide number of participants have gained an increased awareness of Smart City development.