14 August 2014, Ouagadougou, Burkina Faso – The presidents of the National Associations of Local Authorities (ANPL in French) of francophone African countries met to identify challenges and priority areas for training of local authorities in the region. The meeting was hosted by UNITAR's training centre for francophone Africa -CIFAL Ouagadougou- on 11 July 2014.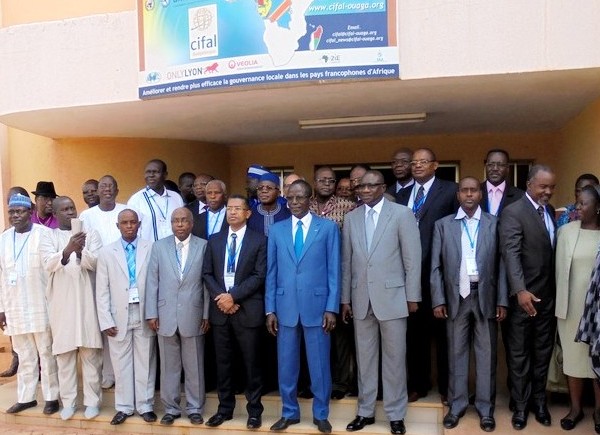 In this opportunity, the presidents of the ANPL focused on identifying strategies and actions to strengthen CIFAL Ouagadougou and to ensure its sustainability, as well as on evaluating its training activities and setting its priority areas beyond 2016.
The meeting was held in partnership with the African Capacity Building Foundation (ACBF), the municipalities of Lyon and Ouagadougou, the Partnership for Municipal Development (PDM), the International Association of Francophone Mayors (AIMF in French), the higher education and research institute "2IE", Veolia, and the initiative of the Pan African Intergovernmental Agency "Water and Sanitation for Africa" (EAA).
During this one-day event, participants had the opportunity to discuss key subjects such as partnership development, funding strategies and training needs in Burkina Faso and neighbor countries.
The meeting included interactive presentations and open discussions. As a result, it served as a platform to encourage the dialogue and knowledge sharing between the leaderships of ANPL.
The presidents of the ANPL highlighted the importance of developing the financial capacity of CIFAL Ouagadougou so that it can become a center of reference and excellence at the service of French-speaking local authorities and communities in Africa.
---
For more information on CIFAL Ouagadougou visit www.cifal-ouaga.org/