CIFAL Madrid Successfully Concludes its First Postgraduate Course on Road Safety
22 June 2018, Madrid, Spain – UNITAR's affiliated International Training Centre for Authorities and Leaders in Madrid (CIFAL Madrid), in collaboration with the Real Automóvil Club de España (RACE) and the European University, successfully concluded today the Postgraduate Course on Road Safety Management and Leadership, aimed at managers, leaders and professionals in this field.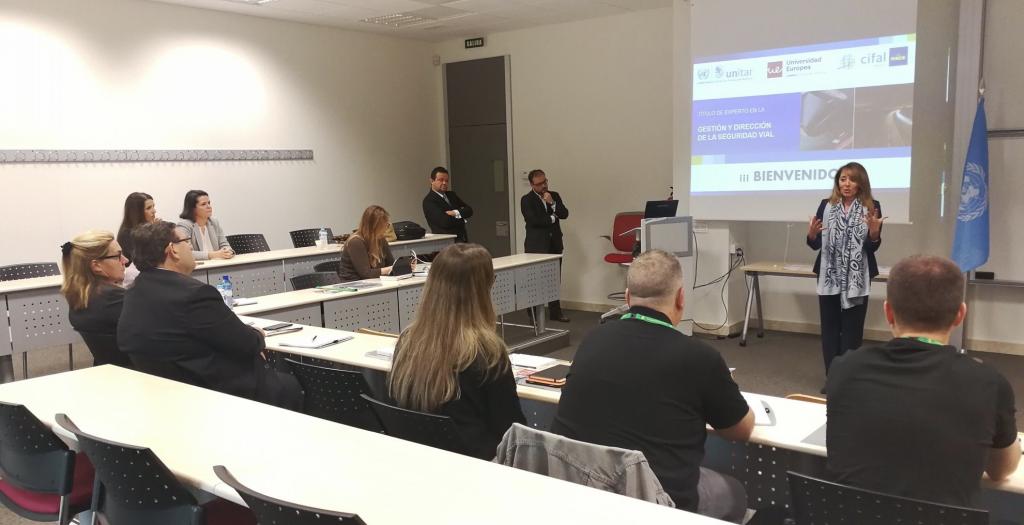 The course seeks to broaden knowledge on road safety presenting a comprehensive view of the factors, methods and best practices that help prevent road crashes. It included 44 master classes led by 42 professionals, government officials and experts on road safety. This first of its kind course brought together 18 students from Colombia, Dominican Republic, Ecuador, Mexico, Paraguay, and Spain.
Through its four-week academic program at the Alcobendas Campus, students learned about practical actions that effectively contributed to reduce traffic crashes. Assistant Director General for Training of the Directorate General of Traffic, Mónica Colás explained the actions taken in Spain to reduce fatalities. Authorities from Spain such as the General Director of Traffic from Spain, the Chief Prosecutor for Traffic Safety, municipal officials, experts from Portugal and Germany and from organizations such as the FIA Foundation also shared their experience and expertise on road safety. In collaboration with the initiative Smart Baby, training on child road safety was also provided to the students.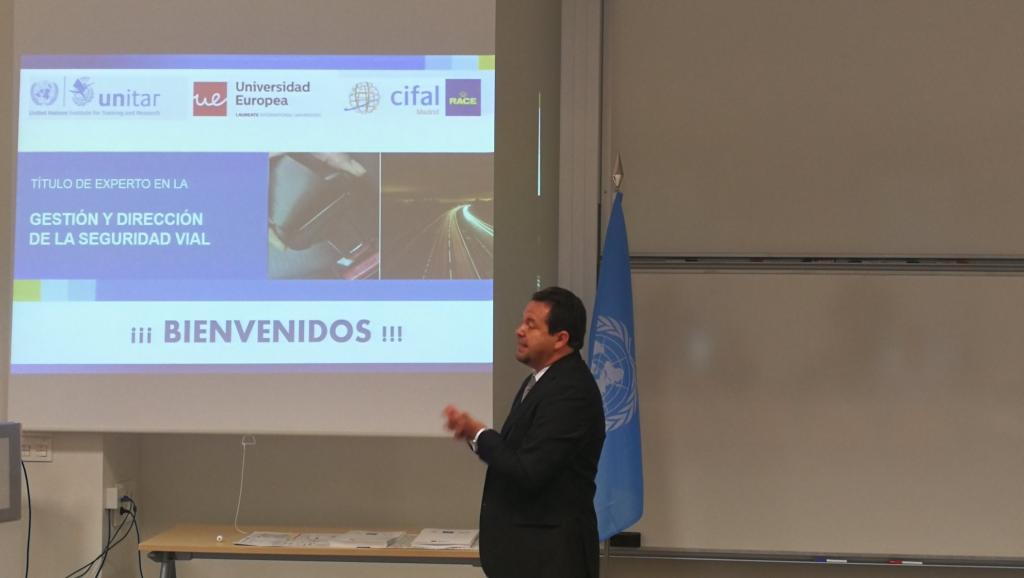 In addition, the students had the opportunity to visit other training centres, such as Drivers´Academy RACE-RedBull located on the Jarama Circuit and took a driving course using the most advanced techniques, such as the rollover simulator, reaction tests, driving and distraction simulators.
Together with theoretical classes and practical visits, team projects, weekly exams and a professional paper to be developed by the students, the course allowed the acquisition of skills that can be used in day-to-day professional practice.
Learn more about the objectives, methodology, evaluation, topics and professors in the course description.
---
Photo 1: Participants of the Postgraduate Course on Road Safety Management
Photo 2: Director of CIFAL Quito from Ecuador Mr. Edwin Mino during the Inauguration of the Postgraduate Course