8-9 November 2013, Atlanta, USA – UNITAR's global network of international training centres - CIFAL Global Network- gathered in Atlanta on the occasion of its tenth anniversary. Since its inception in 2003, the Network has reached more than 30,000 beneficiaries through over 400 learning events.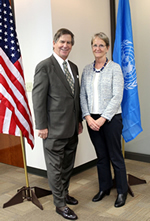 The Directors from the 10 CIFAL Centres met in Atlanta to present their 2013-2014 programmatic calendars, to strengthen cooperation among the centres, set priorities for the next biennium and to develop a common action plan looking ahead towards the Post-2015 Development Framework.
This year's meeting was hosted with the support of CIFAL Atlanta at Kennesaw State University. The meeting was officially inaugurated by UNITAR Executive Director Mrs. Sally Fegan-Wyles. The President of Kennesaw State University, Dr. Dan Papp, and the Chairman of CIFAL Atlanta, Commissioner Craig Lesser, also delivered welcome remarks.
UNITAR presented the 2013 achievements of the CIFAL Global Network. By November 2013, the Network had implemented 52 training activities, including workshops, forums, lectures, courses, and e-learning courses. By the end of the year, the Network will have delivered 67 training events, reaching an expected total of more than 5,700 beneficiaries.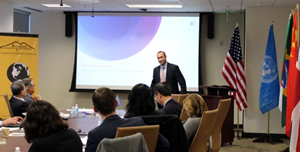 During the steering committee meeting, it was also discussed the key role that the private sector and academia have for the CIFAL Global Network in advancing the UN Millennium Development Goals. Mr. Eric Loebe, Vice President of AT&T stressed the role that information and Communication Technologies (ICTs) have as an enabling factor which will support us in achieving progress in the Post-2015 Development Framework.
UNITAR Executive Director Ms. Fegan-Wyles addressed the diplomatic community in Atlanta and the university's student body on the role of "Women in the Post-2015 Development Framework".
Please visit the CIFAL Global Network website for more informations.
To view the CIFAL training activities delivered in 2013, download the CIFAL Harmonized Training Calendar.
---
Picture 1: Dr. Dan Papp, President of Kennesaw State University and Mrs. Sally Fegan-Wyles, UNITAR Executive Director
Picture 2: Mr. Eric Loebe, AT&T Vice President for International External Affairs