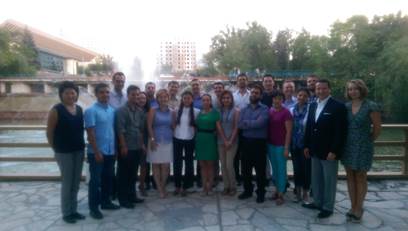 20 August 2014, Almaty, Kazakhstan - A second group of Afghan officials from the Ministries of Finance and Foreign Affairs are currently attending the first module of the joint UNITAR-Graduate Institute Executive Master's Degree in Development Policies and Practices (DPP), which started on July 28. Classes are taking place in Almaty at KIMEP University, a prestigious academic partner in this initiative.

For five weeks students are immersed in intensive courses to master public policy. The curriculum includes subjects on Governance and Policy taught by professors from the Graduate Institute of Geneva. Course topics include Implementing Reform, Monitoring and Evaluation, and Policy Formulation. Emphasizing a practical approach geared towards the work of government officials, the course on Development and Strategic Management focuses on development mechanisms including topics on Conducting Stakeholder Analysis and the intricacies of Project Implementation.

Besides the courses, the Afghan government officials gain exposure to multiple perspectives on development by attending several lectures delivered by guest speakers. Mr. Alex Mejia, Manager of the Decentralized Cooperation Programme (DCP) at UNITAR, and responsible for the DPP Master's Programme, delivered last week a presentation on the UN System and the MDG accomplishments in Central Asia. He also explained the Post-2015 Development Agenda process.

This first module will conclude with an oral exam in which participants present their thesis topics and take questions from a panel of professors and experts. Officials will return to Kabul on August 29, well prepared to continue their studies and embark on module two, which consists of a combination of UNITAR e-learning courses and Graduate Institute's coaching for the master's thesis. Taking place on home soil, module two will enable officials to do their professional work while also continuing their studies.

The Executive Master's Degree programme in Development Policies and Practices (DPP) is a joint collaboration between UNITAR and the Graduate Institute of Geneva. The customized degree programme, specially created for Afghan government officials is now in its second edition following a successful pilot in 2013.