26 April 2013, Moscow, Russia. – For the second year in a row now, UNITAR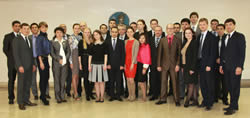 has teamed up with MGIMO University (Moscow State Institute of International Relations) to deliver a comprehensive week-long course in the area of international law. The course aims to equip mid and junior level government officials with practical knowledge and skills, as well as a solid theoretical basis in a select area of particular relevance for the CIS region. This new edition, that took place on 22-26 April in Moscow and welcomed 24 participants representing all of the CIS countries, had energy security as its main theme. The focus of last year's course was international environmental law, with emphasis on global and regional components of environmental security. The courses are part of a five year capacity development programme organized in the framework of UNITAR's partnership with the Russian Federation.
International cooperation is an important element in UN country members' efforts to ensure energy security that often involves more than one state solutions and is directly intertwined with other development challenges. The objectives of the 2013 UNITAR-MGIMO training programme were to provide participants with the knowledge of the existing body of international law and regional cooperation frameworks regulating a variety of aspects of supply/access to energy coming from diverse sources - nuclear, oil, gas and water, etc, as well as to develop related skills needed to analyze, interpret and apply existing international norms and to build knowledge exchange networks at the regional level. The legal aspects covered in the course ranged from extraction/exploitation, delivery, use to the environmental impact of these activities. Energy-sustainable development nexus was a central theme of an interactive round table, in addition to being discussed in several other sessions dealing with the environmental impact of and access to modern energy services. Given the regional focus of the capacity development programme, the case studies presented by the experts included multilateral frameworks for regulating inter-state relationships in the Arctic, Central Asian river basins, and Caspian Sea. A special session was organized on the legal frameworks of the Commonwealth of Independent States in the area of energy security, as well as various bilateral arrangements and tools at the regional level.
The course is t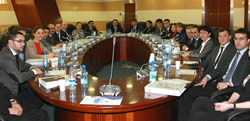 raditionally delivered by invited international experts and MGIMO professors. The highlight of this year was country presentations by course participants who have exchanged their views and discussed energy security related challenges from their respective national angles. Improved knowledge, strengthened practical skills and new networking opportunities were among some of the major achievements of this year's capacity development programme that has also helped to promote synergies and dialogue by bringing together representatives of Ministries of Foreign Affairs and national officers from substantive Ministries dealing with energy related issues on a daily basis.
---
Please also see related news on the MGIMO website:
http://www.mgimo.ru/news/faculty/document237665.phtml
http://www.mgimo.ru/news/international_contacts/document237882.phtml